The brother of French serial killer Mohamed Merah has said he is "proud" of his brother's actions but has denied giving him any help, a police source said Saturday.
Meanwhile, President Nicolas Sarkozy on Saturday defended the police who killed Merah during Thursday's siege of his home.
"I will not allow anyone to question the honor of RAID (special police unit) and the forces who brought an end to this monstrous individual's actions," President Sarkozy said.
Mehar, 23, was killed in a sea of bullets following a 32-hour standoff with police on Thursday. This came just days after he gunned down a rabbi and three children at a Jewish school on Monday, as well as three soldiers in two previous shootings in the Toulouse area.
Family faces questioning
The shooter's brother, 29-year-old Abdelkader Merah and his girlfriend, who has not yet been named, have been taken to Paris for questioning at France's anti-terrorist headquarters. The older Merah is being investigated for possible links to the killings.
Abdelkader admits being with his brother when the scooter used in the killing spree was stolen, but a search of his home has uncovered no weapons or explosives, and his computer contained nothing conclusive, the source said.
Officials have described Adebelkader as the more radical Islamist of the two, and said that traces of what could be an explosive material had been found in his car.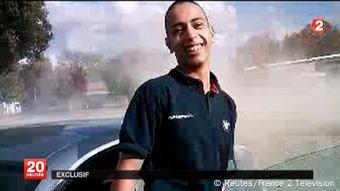 Mohamed Merah said he acted alone.
The killer told police during the siege of his apartment that he acted alone, but it is unclear how a jobless man, who claimed links to al-Qaeda, managed to amass an arsenal of assault weapons and pistols without support from others.
The Merahs' mother, Zoulikha Aziri, who was at the scene of the police standoff trying to help negotiate her son's surrender, was also taken into custody but was released on Friday. She is "wracked with guilty and remorse" over her son's actions, her lawyer Jean-Yves Gougnaud said. "Could she have prevented these things, this is what she is asking herself."
Merah's uncle told Le Point magazine that his nephew had always been unstable but that he could "never have imagined" him to be the so-called scooter killer.
Politicians speak out
As the presidential election campaign resumes in the wake of the crisis, President Sarkozy's rivals have criticized the authorities' so-called failure to prevent the attacks.
"The government must ensure the safety of French people. That's its mission. On that score, there's progress to be made when you see the rise in violence over the past five years," Socialist candidate Francois Hollande said.
Several candidates have questioned why the police failed to identify Merah as a suspect in the killing of three soldiers before he attacked a Jewish school on Monday.
Security experts also questioned why the police did not try to overpower Merah by introducing gas into his apartment at the outset of the raid. President Sarkozy was quick to defend the team's actions, along with Interior Minister Claude Gueant.
Gueant told Le Figaro that Merah was a "terrorist acting alone." "It's the first time that France has been confronted with this particular type of action," he said, dismissing criticism of the police as "irresponsible".
"The men who carried out this operation are very great professionals," he added.
tm/slk (dpa, AFP)