French President Nicolas Sarkozy's ruling UMP party is to press ahead with a public forum to address concerns about the place of Islam in French society, despite criticism from several quarters.
Issues to be debated at a Paris hotel on Tuesday include the holding of Muslim prayer sessions in French streets and the need for halal-only restaurants.
Among those due to attend was French Interior Minister Claude Gueant, who sparked recent controversy by saying the French "no longer felt at home" in connection with Islamic practices. Party spokesman Jean-Francois Cope was also set to be present.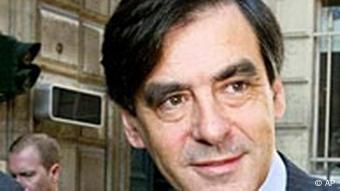 Fillon, who is against a drift to the right, is set to stay away
The leaders of France's Roman Catholic, Muslim, Jewish, Protestant, Orthodox Christian and Buddhist faiths voiced opposition to the debate. In a joint statement last week, they claimed that it could fuel racial prejudice and stigmatize Muslims.
Leaders of groups representing France's Muslims have said the debate could alienate the community which, numbering at least 5 million people, is the European Union's largest Islamic minority.
Concern within ruling party
Some UMP members also opposed to the debate say it legitimizes the agenda of the extreme right. Prime Minister Francois Fillon has voiced public concern about a perceived drift of the party to the right and has refused to attend.
The phenomenon of Muslims praying in the street was seized upon recently by the far-right National Front. The party saw its popularity increase significantly in local elections last month.
France has a strong tradition of secularism and notably banned the wearing of full face veils in public last year.
Author: Richard Connor (AFP, Reuters)
Editor: Nicole Goebel