When the Paris-based media watchdog Reporters without Borders published its Global Freedom of the Press rankings for 2011 earlier this year, a whole series of letters of complaints arrived at the organization's headquarters from Indonesian journalists who felt their professional reputation had been attacked.
Indonesia had slumped 29 places in the Global Freedom of the Press rankings, down to 146, from 117 in 2010. However, this had nothing to do with the quality of Indonesian journalism, but everything to do with the increasing cases of intimidation and violence, including kidnapping and killing, against journalists.
"It is clear that the violence has a huge impact in terms of the score of the country in the index," Benjamin Ismail, the head of the Asia-Pacific desk at Reporters Without Borders, told Deutsche Welle. He added that there had been many incidences of violence against journalists conducting research on people in high places.
Guaranteed in law but not reality
Even though, freedom of the press is guaranteed by Article 4 of Indonesia's 1999 Press Law and Article 18 says those who prevent journalists from working can be handed a maximum jail sentence of two years and/or fined up to 42,000 euros, the reality is very different.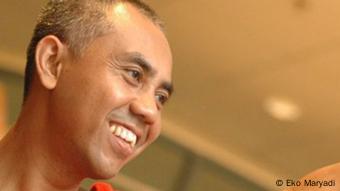 Eko Maryadi is worried about the future of press freedom
Two journalists have been killed this year already - in Aceh and West Papua. "In the past five years, we have recorded 12 cases of murdered journalists in Indonesia. Only one case has been investigated. The killer was sent to jail," Eko Maryadi, the head of the Alliance of Independent Journalists in Indonesia, told DW.
According to the New-York based Committee for the Protection of Journalists in Indonesia, most of the murdered journalists were reporting about rampant corruption.
'Envelope journalism'
However, the profession itself is not free of corruption. Amplop, or "envelope," journalism is not uncommon in Indonesia, with journalists accepting bribes to report favorably about private individuals, companies or state officials. Maryadi, who believes "envelope journalism" poses one of the biggest threats to free and independent reporting, blamed the fact that journalists tend to be underpaid.
He named media mogul Hary Tanoesoedibjo as an example of the problems that arise when media conglomerates and politics come together. The owner of three of Indonesia's national television stations joined the newly-established Nasdem Party last fall. "Not one day goes by when Nasdem is not a topic," complained Maryadi.
For his part, Budiman Tanuredjo from Indonesia's leading daily newspaper Kompas said he did not feel pressure on a daily basis, but he thought that there is still a "long long way to go because we face so many problems."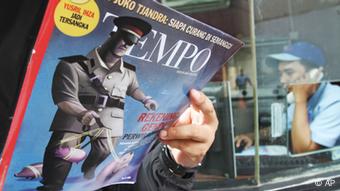 Indonesia's leading magazines warn their reporters to be careful
"We tell our reporters to be careful when they are writing about companies with big names," he explained.
Ismail, from Reporters Without Borders, also said that detrimental influence could also come from abroad. "We have observed that justice is influenced by external actors, such as extremist groups, or even foreign powers like China," he said.
Last September, a local radio station in Riau province, Radio Era Baru (New Era Radio) was forcibly shut down by military police and local police officials. Ismail told DW that the station had been critical of human rights violations in China.
Author: Gero Simone / act
Editor: Gregg Benzow