Star authors like American Jonathan Franzen and Briton Ken Follett, and not one, but two German Nobel Prize winners - Guenter Grass and Herta Mueller - are expected to attend this year's Frankfurt Book Fair, which runs from October 6-10. Those names may be the literature fair's trump card, but organizers say they also hope to showcase new concepts for the future of publishing.
"The biggest trend is that various media are merging," said Frankfurt Book Fair's director, Juergen Boos. "When people sit at their computers, they often have news pages open, as well as their e-mail and other programs. That shows how dynamic things are."
The worlds of film and publishing are coming closer together, he added. "People load all their preferred media onto one device, or have several different devices that they jump back and forth from."
Bridging lit and tech
In a program called "Frankfurt Sparks," the fair is to showcase new technologies which demand fresh content. With reading devices, apps, and Internet platforms beginning to edge out or at least alter traditional printed books, the program's intention in focusing on that trend is to spark debate.
"Frankfurt StoryDrive" is a cross-media conference accompanying the fair, where publishers, technology and software developers, game representatives and media users can brainstorm about developing "worlds" for good stories and continue the debate about literature trends.
"Device providers need content to arouse consumer interest in their devices," said Bernhard Rohleder, managing director of the Federal Association for Information Technology, a cooperation partner at the conference.
"The Frankfurt Book Fair provides that content, so it is a typical win-win situation for both the fair and the technology sector," he said.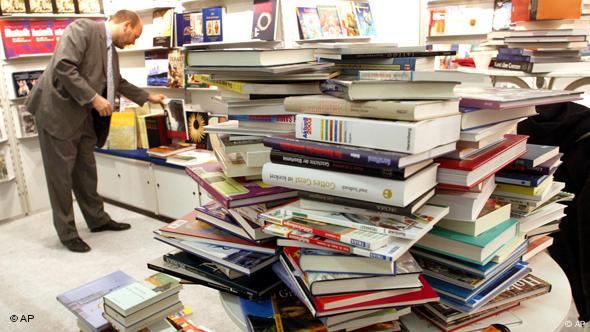 Not everything has gone digital
Growth in digital area
Rohleder anticipates growth of 20 percent in the next decade for the sector that merges literature and technology. A new German reading device is slotted for debut at the fair, for instance, since Internet book giant Amazon has been hesitant to issue its Kindle on the German market due to unclarified copyright issues.
Another continued challenge for publishers is that many Internet users do not want to pay for digital content, Boos said, but it's also a trend that offers potential for new developments.
"When 'Avatar' - the hugely successful movie - was created, the book, computer game and music were developed and marketed all at the same time," Boos stressed. "That was a first, and it shows that people are thinking differently."
Good news and bad
Boos aims to tap into this cross-media market, but has a few hurdles to leap at this year's fair. Bucking past years' trends of record participation, this year sees a five percent drop in exhibitors, bringing the number to around 6,900. There are also 100,000 fewer new publications.
But there is some good news, too. With Argentinia as the focus this year, 216 new translations are coming out of the country. The children's literature market is likewise buzzing, and the education sector can boast 11 percent more exhibitors this year.
The book fair is advancing its campaign for literacy and human rights, while the Literary Agents Center is bursting at the seams.
"That is the most significant record we can report - that the licensing sector is been growing steadily, with more agents than in previous years so that they don't all fit into the hall intended for them. That's the growth to be proud of at this year's fair and is its backbone," Boos said.
Author: Ruthard Staeblein (als)
Editor: Kate Bowen
The fair is open to exhibitors and trade visitors from October 6-10, and open to the general public from October 9-10.