France has agreed to sell Libya anti-tank missiles as part of the military agreement reached last week by French President Nicolas Sarkozy and Libyan leader Moammar Gadhafi.
"We are going to buy rocket-propelled grenades of the Milan type worth around 100 million euros in France," Gadhafi's son Saif al-Islam Gaddafi was quoted as saying in an interview published in Thursday's French daily Le Monde. "There's also a project for a weapons factory."
A shoulder-mounted anti-tank weapon, the Milan is built by a subsidiary of Europe's joint EADS defense and aerospace company.
The deal is part of a defense memorandum of understanding for a nuclear energy agreed to by Sarkozy when he visited Tripoli last week, after helping to free foreign medics imprisoned in Libya.
The French government has denied a direct link between the two countries' military cooperation and the release of the Bulgarian medics. When asked what France offered in exchange for the six medics' release Sarkozy answered, "Nothing."
First deal after arms embargo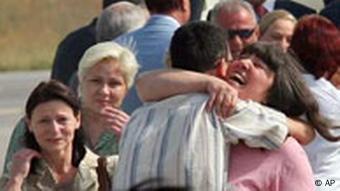 Six Bulgarian medics held in Libya for over eight years were set free last week
The 35-year-old Islam said it was the first arms supply from a Western country, and added that he anticipated more deals to be made with other nations soon.
Since the arms embargo ended in 2004 there had been an unofficial embargo against his country, he said, pointing out that Germany had been especially reserved in dealings with the country while other European nations have proven more willing to negotiate, Islam said.
Though careful to avoid criticizing Paris directly for the details of its deal with with Tripoli, German Foreign Minister Frank-Walter Steinmeier said he wished France had better communicated its intentions with other EU members.
"I would have certainly wished that France had informed and gotten its European partners on board with the offer to Libya," he told the Thursday's Handelsblatt newspaper. "I think the French side now sees that it could have better chosen the order."
German politicians, including Steinmeier's deputy, have recently criticized the French deal with Libya and recommended that German companies continue not to do business with the African state.
UK extradition rumored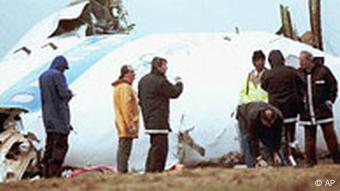 A Libyan convicted for having a role in the Lockerbie bombing could be extradited
Negotiations over a possible extradition of Libyan secret service agent Ali al-Magrahi, who was sentenced to life imprisonment over the 1998 Lockerbie attack and is serving time in a prison near Glasgow, also played an important role, Gaddafi told the French paper.
"There will soon be an extradition agreement with Britain," he said.
That's a statement the British government has denied.
"There is no link between Mr. Megrahi and the release of the Bulgarian and Palestinian medics," a spokesman told AFP news agency, adding that there is no extradition agreement between Britain and the north African country.
The spokesman did, however, add that, "the UK and Libyan government are looking into a wide range of areas pertaining to judicial cooperation."