French police continued to scour south-western France on Tuesday to find the gunman believed to have been behind three deadly attacks in the past week.
More than 100 police officers were dispatched to the area to hunt for the gunman who opened fire in front of a Jewish school in the city of Toulouse the previous day, killing a rabbi and three children. The assailant is also the prime suspect in the killing of three soldiers in two separate shootings last week in Toulouse and the nearby town of Montauban, to the north.
French President Nicolas Sarkozy raised the terror alert level in the Pyrenees region surrounding Toulouse to scarlet - the highest possible level. Security was increased at schools, synagogues and mosques around the country, Sarkozy said and 14 riot police units "will secure the region as long as this criminal" remained on the loose.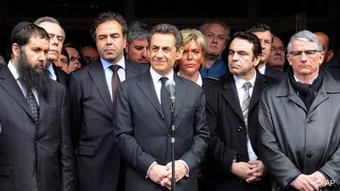 Sarkozy travelled to Toulouse to express his condolences
Police confirmed that they were searching for a single perpetrator after it emerged that the attacker, apparently an experienced marksman, used the same 11.43-caliber pistol to execute his victims in all three attacks. He also fled the school on the same Yamaha scooter.
Unknown motive
In the attack a 30-year-old religious education teacher and three children aged four, five and seven were shot dead as they arrived for class at Toulouse's Ozar Hatorah school. One witness described the man as chasing small children and "looking to kill."
On March 11, a 30-year-old paratrooper based in Toulouse was found dead with a bullet to his head. The assailant is thought to have lured him to a remote part of the city by feigning interest in his motorbike.
Four days later two paratroopers were killed and one seriously wounded when standing at a cash machine in Montauban 50 kilometers (32 miles) from Toulouse.
Speculation is rife over the motivation for the attacks, which remains unknown. President Sarkozy has suggested, however, that the killings at the school and those of the soldiers, one of Caribbean and two of Muslim origin, appeared to be motivated by racism.
"In attacking Jewish teachers and children, there seems to be an obvious anti-Semitic motivation," he said late on Monday.
"With the soldiers ... one can imagine that the bloodthirsty madness was linked to racism."
Francein mourning
Schools across France observed a minute of silence in commemoration of the victims on Tuesday.
Sarkozy declared Monday a "day of national tragedy," suspending his re-election campaign until at least Wednesday.
On Monday evening, more than 1,000 people packed a synagogue in central Paris for a memorial service that was attended by Sarkozy and his wife Carla Bruni-Sarkozy.
ccp/pfd (AFP, Reuters, AP)