Italian Interior Minister Angelino Alfano said that the suspect, who was identified as businessman Claudio Giardiello, was being held at a military police barracks. She said police caught the man in Vimercate, a Milan suburb, after he managed to travel some 25 kilometers (15 miles) on a motorcycle after fleeing the crime scene.
The suspect had been on trial for fraudulent bankruptcy. On Thursday morning, he had opened fire inside the Milan courthouse, killing a judge and another person.
Italian authorities named bankruptcy judge Fernando Ciampi as one of the victims. Lorenzo Claris Appiani, who was representing Giardiello, was another casualty, according to the ANSA news agency.
While Ciampi was attacked inside his office, the three others were targeted during the trial, Italian media reported, adding that "several" people were injured during the shootout.
Two people, who suffered cardiac arrest at the time of shooting, were later declared dead at hospital.
Valerio Maraniello, a lawyer who represented Giardiello in the past, described the alleged murderer as an "intractable client because he never listened to advice."
"He was someone who thought that everybody was out to cheat on him. He was paranoid," he added.
Lax security
The shocking incident has raised questions about the state of security at the fortress-like Milan tribunal.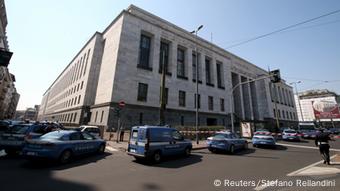 It is unclear how the suspect gained entrance to the court with a weapon
It was unclear how Giardiello had gained entrance with a weapon, as visitors have to pass through metal detectors.
As the drama unfolded, police were posted at all exits and the building was evacuated, with checks of the occupants' identification as they left.
The court staff hid inside their office rooms and took cover under their desks as the shots rang out in the courthouse.
"There was a lot of panic at the beginning when people came running toward us saying there was person with a pistol who had been shooting," said lawyer Mirko Ricetti.
Prosecutor Edmondo Bruti Liberati said the gunman first shot his lawyer and co-defendant, killing both and seriously wounding a second co-defendant. Then he "walked through the building, going down a floor, and killed the judge," Liberati told the Associated Press news agency.
Justice Minister Andrea Orlando, however, said the security arrangements at the tribunal weren't lax. "I never received any reports about security shortcomings," said Orlando. "We have to see if there were failures," the minister said.
shs/kms (AP, dpa, Reuters)