Sunday's Abu Dhabi Grand Prix is set to be McLaren driver Fernando Alonso's 313th and last Formula One race. Over his 17 seasons, the native of Oviedo Spain, who ended Michael Schumacher's domination by winning the 2005 and 2006 drivers' titles, has had one of Formula One's more eventful careers.
In his early years, Alonso set a number of records – as the youngest to qualify on pole position (2003 Malaysian Grand Prix) and to win an F1 race (2003 Hungarian Grand Prix) – and in 2005, the youngest to win a drivers' title at 24 years and 58 days old. The 2006 title made him the youngest to have won two – in seasons in which he also led Renault to consecutive constructors' championships.
No regrets
Although the 37-year-old was never able to add to those early titles, he says he will leave F1 with no regrets.
"I have won more races than what I dreamed of when I came here, and this part of my career is done – it was a success," Alonso said in an interview with ESPN this week. "I have ticked the box. I need to go for another tick and find another box to fill. That's the only reason."
Seldom at a loss for a spicy quote, Alonso also delivered a parting shot at F1 which he feels has become too predictable in recent years.
"We came to Barcelona, we test the first day in winter testing, and you know what you will do until November in Abu Dhabi," the Spaniard told the portal Crash.net.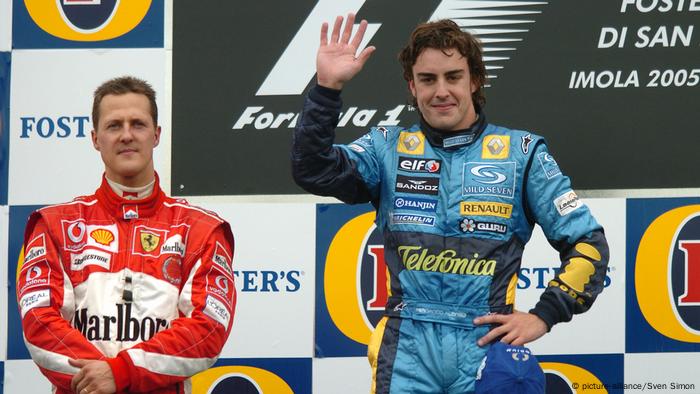 When Alonso ended Michael Schumacher's run of titles, many saw him as the German superstar's heir apparent
Fateful first spell at McLaren
Even if he says he is happy with his career, many will wonder how much more he could have achieved had he made better choices after leaving Renault the first time. Even Alonso himself admits that his 2007 move to McLaren, where he signed on expecting to be the No. 1 driver, was in hindsight, his biggest mistake.
"In that moment, I changed my career," he told skysports.com. "I was hoping for better."
Alonso's problem: A rookie teammate by the name of Lewis Hamilton, who was simply too fast from the get-go. To make matters worse, not surprisingly, the two didn't get along.
Their mutual animosity came to a head in qualifying at that year's Hungarian Grand Prix, Alonso blocked Hamilton in the McLaren pit just long enough to prevent the provisional pole sitter from getting in a "hot lap." Alonso wound up claiming pole position himself, but was subsequently assessed a five-place grid penalty.
'Spygate'
That led to the subsequent "spygate" affair in which Alonso threatened McLaren team principal Ron Dennis with revealing potentially damaging technical information about Ferrari.
Dennis beat Alonso to the punch by informing FIA boss Max Mosely, and McLaren were kicked out of that year's constructors' championship and fined $100 million. Alonso wound up leaving the team at the end of the season.
'Crashgate'
Alonso returned to Renault in 2008, where he was implicated in another scandal, "crashgate" in which teammate Nelson Piquet Jr. was alleged to have caused an accident at the Singapore Grand Prix to help Alonso win. FIA found no evidence that Alonso had any knowledge of the alleged plan.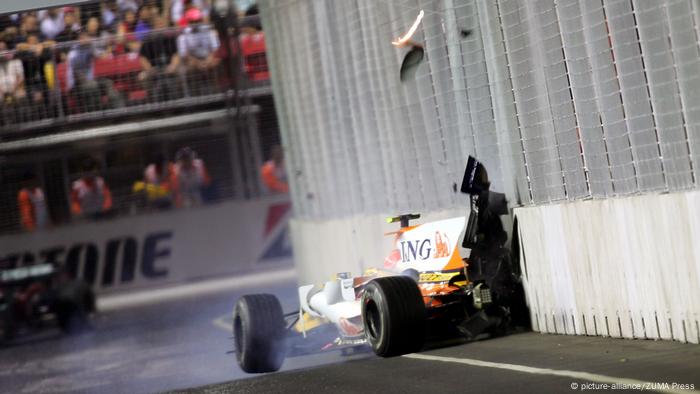 Nelson Piquet's crash in the 2008 Singapore Grand Prix worked to Alonso's advantage
In 2010 the Spaniard moved on to Ferrari, where he came the closest to winning a drivers' title after 2006, finishing second in 2010, 2012 and 2013 – behind Sebastian Vettel each time. It was with the Scuderia that he would win his last F1 race – in his native Spain. Five years later, he returned to McLaren, with whom he is now set to conclude his F1 career.
In pursuit of the 'triple crown'
However, this doesn't mean that he will be leaving motor racing – not by a long shot. Alonso is planning to "tick that next box" by compete in his second Indianapolis 500 next year. This is part of his quest to become just the second driver to complete motor racing's "triple crown" by winning the Indy 500, the Grand Prix of Monaco and the 24 hours of LeMans.
The only driver to achieve this so far is the late Graham Hill of Britain, who did so in the 1960s and 1970s. Alonso already has two out of the three to his name, having already won in both Monaco and LeMans. However, he failed to win in his only crack at the Indy 500 so far, in 2017.
Door to a comeback 'not closed'
And while Sunday's race in Abu Dhabi is being billed as his last in F1, at a Thursday press conference, Alonso declined to rule out a comeback at some point in the future.
"Right now it's difficult to think about coming back but the door is not closed," he said. "Maybe next year, by April or May, I am desperate, on the sofa, so you know, maybe I find a way to somehow come back."