A former Swiss private banker says he is planning to give account information on around 2,000 clients to the whistleblowing website WikiLeaks.
Rudolf Elmer, who was fired from Julius Bär, a leading Swiss private banking group, in 2002 and who faces trial in Switzerland on Wednesday for an earlier breach of bank secrecy laws, told Switzerland's Der Sonntag newspaper that he intends to hand over two CDs of data to the controversial Internet platform.
Elmer told the newspaper that the CDs include names, balances and transfer information of some 2,000 people who may be guilty of using offshore bank accounts to duck their tax obligations.
"The documents show that they are hiding behind banking secrecy laws, possibly to evade taxes," Elmer told Der Sonntag, adding that the data came from "at least three financial institutions."
Elmer will officially give WikiLeaks the information at a Monday press conference in London, which the site's founder, Julian Assange, is also expected to attend. However, the information will go through a vetting procedure before appearing on the WikiLeaks homepage.
"WikiLeaks will go through the data, and if they really deal with tax evasion, they will be published later," Elmer said.
History repeating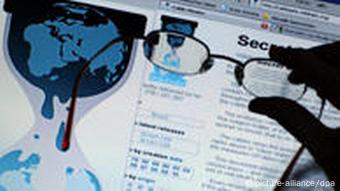 Elmer has worked with WikiLeaks before
Elmer said that the data involved multimillionaires, international companies and hedge funds from several countries including the US, Britain and Germany. Roughly 40 politicians were among the individuals featured in the information, along with prominent business people and artists, he said.
Elmer, who was formerly Julius Bär's chief operating officer in the Cayman Islands, was among the first people to provide high profile information to WikiLeaks, releasing client data to the website in 2007. He faces a trial in Switzerland on Wednesday in connection with this earlier leak. The information he released led to tax evasion prosecutions in several countries.
Elmer said the data to be handed over on Monday, much of which was passed on to him by fellow whistleblowers, concerns bank activity between 1990 and 2009.
The government in Berne has come under growing pressure in recent years to relax its strict banking secrecy laws and do more to help other governments identify people using Swiss bank accounts to dodge taxes at home.
Switzerland has made some concessions on this issue, most notably releasing details of around 4,450 clients of banking giant UBS to the US government last year, after Washington agreed to drop a lawsuit against the financial institution.
Author: Mark Hallam (AFP, Reuters)
Editor: Kyle James