Ebrahim D.C. is 61 years old and the father of eight children. He spent many years of his life hiding in the mountains. Looking back, he said what he remembers most of that time, which started in the 1970s when he was 14 years old, was the fear. The conflict on the large island of Mindanao had been escalating between the central government of the country, which is predominantly Catholic, and two main Muslim resistance groups fighting for independence: the Moro National Liberation Front (MNLF) and a breakaway faction, the Moro Islamic Liberation Front (MILF). Soldiers arrested people at random, Ebrahim said, and so at the age of 16 he joined the armed wing of the MILF.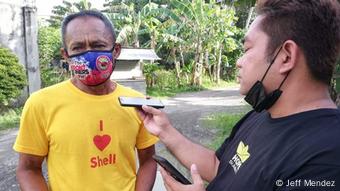 Ebrahim joined the MILF when he was 16 years old
Later, when things became more peaceful, he married and travelled back and forth between his family and an MILF camp. But when soldiers stormed the camp in 2000, Ebrahim and other combatants like himself went back into hiding. "It was really hard," he said.
Building bridges, building up courage
Ebrahim recounted his story in an interview with DXMS, a radio station in Cotabato City. The program is part of "Conflict Transformation in the Philippines", a project by the non-governmental organization Nonviolent Peaceforce (NP) with support from DW Akademie. "We want former fighters to have an opportunity to tell their own stories as well as their hopes and their wishes," said NP project manager, Marlon Dedumo.
The interviews are not just for building bridges between different population groups but, above all, for encouraging other combatants to lay down their weapons – as Ebrahim has.
More self-determination instead of armed struggle
The disarming of some 40,000 combatants in Mindanao is an important part of the peace agreement that was signed by the MILF and the central government in Manila. The deal went into effect in 2019 following a referendum. In exchange for decommissioning weapons, part of the island that is predominantly Muslim is to become increasingly autonomous: the Bangsamoro Autonomous Region (BARMM). The transitional government there is to be replaced by an elected government in 2022.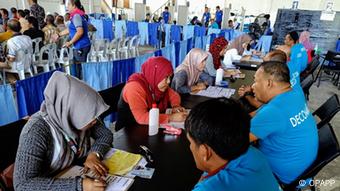 A group of former MILF combatants undergoing the decommissioning process led by the Independent Decommissioing Body (IDB). Each combatant will receive a financial and socio-economic aid package to ensure that they can lead peaceful lives as citizens.
The goal is to end a conflict that began in the 16thcentury with Christian Spanish colonizers. It intensified from the 1970s. For decades, there were clashes between the army, Muslim rebels, communist guerrillas, regional family clans, indigenous peoples as well as Islamist terrorist groups including the Islamic State (IS) and Abu Sayyaf. At least 150,000 people have died and several million have been displaced. Behind this religious-ethnic conflict lies a bitter struggle for land and economic resources as well as social and cultural recognition. While fertile land is now largely owned by non-Muslim settlers from other parts of the country, half of the Muslim population lives below the poverty line.
Conflict-sensitive reporting – especially during the corona crisis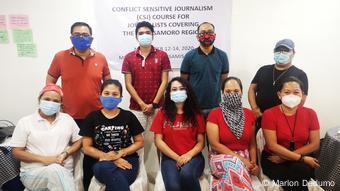 30 journalists have been trained in conflict-sensitive reporting
It remains to be seen whether the recent peace deal will hold. There are still violent attacks by Islamist groups that are not part of the agreement as well as skirmishes between hostile families. In situations like these, the media can be crucial for de-escalating tensions and promoting dialogue. However, the media there are currently under severe pressure given the pandemic, slipping revenues resulting from growing competition on the Internet, and major political restrictions and even violence.
"Still, it's extremely important to overcome reporting that polarizes people, and to show all sides, including those that aren't so easy to see," said DW Akademie program director, Andrea Marshall. As a result, 30 journalists have since been trained in conflict-sensitive reporting. The radio stations DXMS Cotabato and DXIC Illigan have developed formats together with former combatants and have organized forums that focus on the peace process. Due to the pandemic, some parts of the project have taken place online.
Start-up capital for a new beginning
Much will depend on whether former fighters are successfully integrated into civilian life. The central government is giving one-time financial support to former fighters and has announced an aid package for education and housing. The Nonviolent Peaceforce and other organizations are helping with integration.
In radio interviews, former combatants described the effect the transition was having on them. One said he had used the start-up money to buy a cow and lease a bit of land, and now hoped to build his own house.
A 24-year-old ex-combatant said he had worked as a security guard and was now aiming to become a policeman. And a former insurgent who had long fought with the Bangsamoro Islamic Women's Auxiliary Brigade said she hoped women would soon have better paid work.
Ebrahim D.C. for his part said it was important that the government now saw him as a peaceful citizen and that his grandchildren were able to go to school. And all agreed that the best thing about being part of civilian life was that the fear is gone.