The lawyer for former Catalan leader Carles Puigdemont announced on Sunday that his client had been detained by police in northern Germany.
A German police spokesperson confirmed the arrest shortly afterwards, saying that, based on a European warrant, Puigdemont "was arrested today at 11:19 a.m. by the autobahn police force of Schleswig-Holstein."
Read more: Who is former Catalan President Carles Puigdemont?
Puigdemont's lawyer, Jaume Alonso-Cuevillas, said that highway police had stopped the separatist leader after he crossed the border from Denmark to Germany. He also confirmed that Puigdemont had been on his way back to Belgium, where he has lived in exile since fleeing Spain with several other former Catalan ministers.
Alonso-Cuevillas made the following statement about his client on Twitter:
"1. President Carles Puigdemont was retained in Germany when he was crossing the border from Denmark, on his way to Belgium from Finland. 2. The treatment has been correct in every moment. At the moment he is in a police station and his legal defense is already activated. 3. The president was going to Belgium to put himself, as always, at the disposal of the Belgian justice."
Deutsche Welle reporter Alexander Drechsel said that German traffic police had received information from federal authorities that Puigdemont would be travelling on the A7 motorway, which cuts through the state of Schleswig-Holstein from the Danish border. The former Catalan president was arrested at a service station at the border, Drechsel added.
The Catalan separatist leader was traveling back to Belgium from Finland, where on Thursday he met with lawmakers and attended a conference to raise the profile of Catalonia's independence drive.
Read more: Catalan independence - What you need to know
Puigdemont to appear before German judge on Monday
Puigdemont has been taken to a prison in the northern German city of Neumünster. On Monday, the former Catalan president will appear in court in Schleswig, albeit only to verify his identity.
In a statement, the prosecutor's office said "the question of whether Mr. Puigdemont has to be taken into extradition custody, will then have to be determined by the higher regional court in Schleswig." The court will also determine whether Puigdemont's extradition is "legally permissible" based on Spain's extradition request.
Prosecutors in Schleswig-Holstein also said they were examining how long the former Catalan leader can be held on the basis of a European arrest warrant.
Read more: Beyond Catalonia: Separatist movements in Western Europe
Possible jail term
Puigdemont has been a fugitive since Catalonia's failed bid to become independent from Spain last October. The Spanish Supreme Court on Friday issued fresh arrest warrants against Puigdemont and six other Catalan politicians who are abroad.
He is facing up to 25 years in prison in Spain if found guilty of the charges of rebellion and sedition for organizing an illegal referendum for Catalonia that led to a unilateral declaration of independence in October.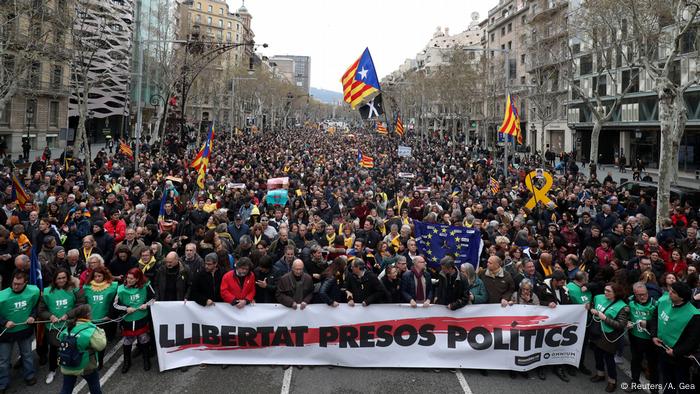 Thousands took to the streets of Barcelona to protest againstPuigdemont's arrest in Germany
Catalan protesters and riot police clash in Barcelona
Angry crowds protesting the arrest of Puigdemont clashed with authorities in Barcelona on Sunday evening.
Police officers dressed in riot gear were seen striking protesters with batons as they tried to push back crowds advancing on the office of the Spanish government's representative in Catalonia.
Read more: Barcelona and the Catalan question
The protests came on the back of a call by a pro-independence grassroots group to protest in the center Barcelona hours after Puigdemont was detained by German police by the Danish border.
One of the former ministers who fled to Belgium with Puigdemont, Clara Ponsati, was "making arrangements" to surrender to authorities in Scotland on Sunday evening, according to police. She had fled to her former home northeast of Edinburgh from Brussels.
Each evening at 1830 UTC, DW's editors send out a selection of the day's hard news and quality feature journalism. You can sign up to receive it directly here.
dm, cl/ng (dpa, AFP, Reuters)