Bikomagu was shot dead outside his residence in the south of the capital, Bujumbura, as he returned home with his family from church on Saturday, witnesses said.
His daughter was reported to have been seriously wounded in the attack and rushed to hospital.
Bikomagu was the chief of staff of the Burundian army during the 13-year civil war that started in 1993, when the Tutsi-dominated army fought Hutu rebels loyal to Pierre Nkurunziza, who is now president.
Nkurunziza was re-elected in July to a third term in the face of widespread criticism at home and abroad that the move violated the constitution.
The country has been rocked by unrest ever since he announced his intention in April to stand for re-election, with the United Nations refugee agency UNHCR saying on Friday that at least 96 people had died in violence.
Series of shootings
The assassination of Bikomagu comes on the heels of another high-profile killing earlier this month, in which gunmen shot dead a former security chief and close ally of Nkurunziza, Adolphe Nshimirimana.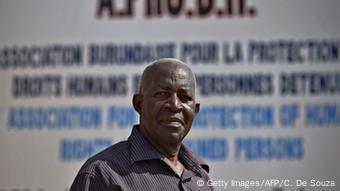 Mbonimpa has left for Belgium since the attack on him
The day after that incident, civil rights activist Pierre-Claver Mbonimpa, who openly opposed Nkurunziza's re-election bid and had accused Nshimirimana of ordering the deaths of government opponents, was also shot and seriously wounded in an assassination attempt.
The growing violence has fueled fears that the tiny central African country could be on the path to another civil war.
The 1993-2006 conflict, which ended with a peace deal, left at least 300,000 dead.
tj/sgb (AFP, Reuters, dpa)