It was reported on Thursday that Brazilian football great Pele (Edson Arantes do Nascimento) had been moved to another hospital wing after being treated for a urinary infection. The 74-year-old was treated at the Albert Einstein Hospital in Sao Paolo.
The hospital released a short statement saying he was in a special care unit after suffering "clinical instability." A spokeswoman declined to give further details on Pele's condition, but said he was not in intensive care.
The Reuters news agency quoted his personal aide as saying he had been moved so he would not be "besieged by as many visitors." Jose Fornos Rodrigues also said the former football player was "completely fine" and the move was to protect his privacy.
"He was uncomfortable with so many people coming. It'll be quieter now," Rodrigues told the Reuters news agency.
Ongoing health problems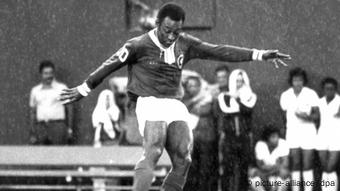 Pele plays for Cosmos New York in the last game of his career, Giants Stadium, New York, October 1, 1977
Pele had suffered from many health problems in the last decade, including emergency eye surgery for a detached retina and a hip replacement.
He was discharged from the same Sao Paolo hospital in mid-November after undergoing an operation to remove kidney stones, but was admitted again at the beginning of this week with a urinary infection. It is believed his condition has now worsened.
Legend of the beautiful game
Pele, who was nicknamed O Rei (The King), was born in the Brazilian city of Tres Coracoes in October 1940.
He is considered by many to be the greatest footballer of all time with a career which saw him score more than 1,280 goals in around 1,363 games.
For Brazil, Pele scored 77 goals in 91 games and won his first World Cup aged just 17, scoring twice in the 1958 final against hosts Sweden. In total, he was part of three World cup winning teams.
lw/ksb (AFP, Reuters)