In an age of misinformation and disinformation, quality media are increasingly being challenged and having their credibility attacked by populists in digital spaces. Having to disband their traditional business models, free and independent media now fear for their survival. How can media development succeed in this context?
Under the motto "Rethinking Media Development", the symposium brought together 200 media experts from all over the world to discuss these pressing issues as well as new creative approaches in media development cooperation. The two-day event was hosted by DW Akademie and the Konrad-Adenauer-Stiftung.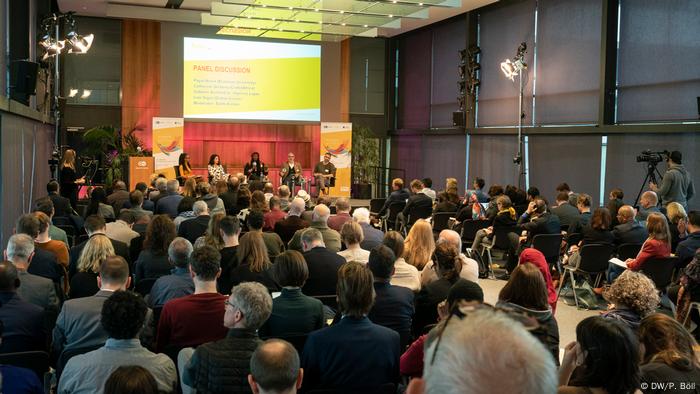 Opening discussion in DW's main hall, Bonn
Media professionals need to take an active role in shaping the changes, participants agreed. And positive aspects should also be emphasized, said Carsten von Nahmen, head of DW Akademie."The digital revolution has changed the media landscape for good. People who had no voice in the past can now speak out," he said.
FoME is an association of more than two dozen media and development organizations whose aim is to share best practices and experiences from the work of media development. A variety of topics were discussed during interactive workshops, panel discussions and a "World Café." Participants debated the importance of artificial intelligence for the media, the protection of whistleblowers, the importance of data journalism and the problematic role Facebook plays with regards to freedom of expression.
Never-ending fake news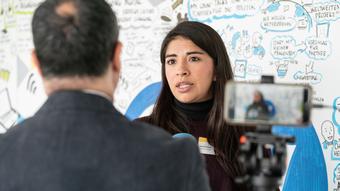 Tania L. Montalvo from Animal Politico in an interview with DW
A recurrent theme was the question of how quality journalism can survive in a landscape overrun with disinformation and as trust in institutions wanes. "Users in my homeland distrust the media. They believe that the media does not want to inform them but that they serve at the behest of politicians and authorities who want to manipulate the masses," said Tania L. Montalvo of Animal Politico, Mexico.
However, this skepticism can not only be harmful but can often be a part of the solution, said keynote speaker Payal Arora, an author and professor at the Erasmus University of Rotterdam. She thinks that popular fears are often exaggerated. "Fake news doesn't kill democracy. It's assumed that people make judgments based on facts. That's very rational. But decision-making doesn't work that way. It is a lot more affective than that." said Arora.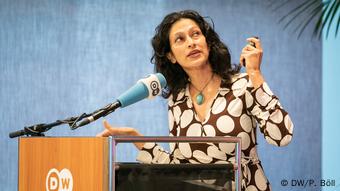 Payal Aoroa in her keynote adress on rethinking media development

Nonetheless, participants repeatedly emphasized the need for serious and well-researched journalism. "Fact checkers in Brazil have a saying: If someone says it's raining and another one is saying it's sunny, your job is not to report on both sides but to actually go outside and check," said Gilberto Scofield Jr. from the Brazilian media agency Lupa.
A striking feature of this year's FoME symposium was the high participation of participants and speakers from the Global South. One of the event's goal has already been met: many participants left with new insights and many new contacts. The next FoME symposium is planned for 2020. The host will be determined early next year.