1. A new coach, but less experience
The Bavarians are betting that Niko Kovac will be their long-term solution after he replaced the retiring Bundesliga-champion head coach Jupp Heynckes in the summer. Bayern CEO Karl-Heinz Rummenigge and President Uli Hoeness are also hoping that Kovac, who led his previous club Eintracht Frankfurt to victory over Bayern in last season's German Cup final, can help the team's players improve. However, they are also well aware of the risk involved in hiring the relatively inexperienced 46-year-old Croatian.
At Bayern, Kovac will be coaching world-class players, who come with big personalities that are tough to manage. This is something the Berlin native has never faced before, and has even been a problem for more experienced coaches. Additionally, the expectation from fans, management and media is that Bayern will not only win every game, but will do so playing excellent football. Kovac understands this environment, having played two seasons at Bayern, but he has never had to deliver this kind of success from the dugout. At Frankfurt, he oversaw a mid-table team. At Bayern, he's working with one of the biggest teams in the world.
2. Robert Lewandowski
Striker Robert Lewandowski has been with Bayern since 2011, but has had an unsettling summer. In an interview with "Sport Bild" in August, Lewandowski said he felt abandoned by the club in May but that now he feels the support in Munich. It seems Kovac has convinced the striker to stay, but an unsettled Lewandowski is unsettling for Bayern Munich.
The Polish international will be determined to perform this season, not only after an underwhelming World Cup but also if he wants to maintain his market value for a future transfer. Having convinced him to stay, Kovac must now get the striker in a place where he can improve on his big-game performances, something which was noticeable by its absence in the Champions League last season. Bayern cannot afford to have an underperforming Lewandowski, and the striker knows he can't have that either.
3. Aging starters
Arjen Robben and Franck Ribery are going into their 10th and 12th respective seasons at the club. Robben, 34, and Ribery, 35, have delivered so many moments of magic for this team, but there is concern that Bayern have relied on them for too long.
There's no denying Robben and Ribery have a special place in the squad and that they share a unique understanding. There's no denying that they will leave a void for Bayern when they leave, but Bayern have perhaps left it a little late to find a plan. Kingsley Coman has made a strong case to start, while Serge Gnabry could also be an exciting option. Beyond that there's only young Canadian Alphonso Davies, who holds little more than promise at this stage. Ultimately, Bayern will still rely heavily on the old duo this season.
4. No new signings
Bayern's only actual addition for the coming season has been Leon Goretzka, although Serge Gnabry (Hoffenheim) and Renato Sanches (Swansea) returning from loan spells makes them feel like fresh signings. This is because Rummenigge and Hoeness have so far refused to follow the big spending of some other big European clubs, like Paris Saint-Germain, Manchester City, or, most recently, Juventus. Hoeness in particular has rejected the notion that a team overhaul with big acquisitions is needed, even after Bayern have failed in their attempt to reclaim the Champions League.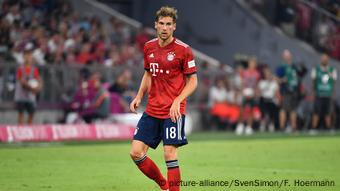 Leon Goretzka is the only new man in Munich this summer
Despite the confidence from Hoeness, Bayern's lack of spending can really hurt their chances, particularly in Europe and as the teams around them get better and better. Juventus, reeling from last year's Champions League disappointment, added Cristiano Ronaldo to an already talented squad. The more conservative, risk averse, style of German football explains Bayern's reluctance to rock the boat, but as the national team's World Cup disaster shows, just tweaking a squad and trying to improve the players may not be enough.
5. European focus
Having won six consecutive Bundesliga titles, there can be little doubt that Bayern will again focus most of their efforts on success in the Champions League. The club has not won Europe's most prestigious club trophy since 2013, having crashed into a Spanish wall, losing in the knockout stages to Real Madrid three times and once each to Barcelona and Atletico Madrid. Coming up short again in Europe's biggest stage will result in a crisis of confidence, but this scenario is very possible.
This laser focus on the Champions League could prove a costly distraction from the Bundesliga, if they make the mistake of underestimating their competition. Admittedly, after finishing 21 points ahead of second-placed Schalke last season this is unlikely to happen. But teams such as Borussia Dortmund, Schalke and maybe Bayer Leverkusen will be hoping to pounce.