It is business as usual in Brussels: Commission President Jean-Claude Juncker meets the president of an EU-member state. In this case, it is Borut Pahor, the President of Slovenia.
Photos are taken as the two men smile and shake hands. Juncker reaches up to give Pahor, who is taller, a hug and a kiss on the cheek.
"Mr. Juncker, how can you help Slovenia deal with the refugees?," a journalist asks as the two men already turn away.
"We do," says Juncker curtly before they disappeared behind closed doors.
After the meeting, Pahor will be telling the press in Slovenian that his country will ask the EU to send additional police forces to its borders.
Pahor's visit comes at a time which is seeing an unprecedented influx of refugees, a time in which business is by no means 'as usual'. It is a time in which Slovenia has issued an emergency appeal to the EU and its member states to help it bear the burden of thousands of migrants arriving at its borders.
"It is delusional to expect a country with a population of two million to stop, regulate and resolve what much bigger member states have failed to do," the Slovenian government of prime minister Miro Cerar said in a statement, stressing it saw "European solidarity at stake."
Slovenia new bottleneck on migrants' route
On Tuesday until noon, some 6,000 migrants had entered Slovenia, as Bostjan Sefic, state secretary at Slovenia's interior ministry, told the press. On Monday, it had been about 8,000.
"The last twenty-four hours have been the most demanding and difficult," Sefic said. "It has been one of the worst days."
He explained that the army, strictly under the command of the police, had been called in to do work "that is otherwise police work."
Since neighboring EU-member Hungary re-imposed controls along its border to Croatia early on Saturday, sealing the crossing with barbed wire, refugees now have to make their way through Slovenia in order to get to Austria, and from there on to those countries most want to get to: Germany and Sweden.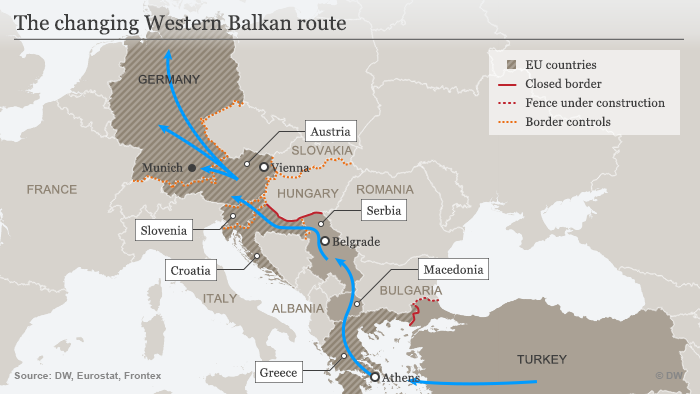 Wedged between Hungary, Croatia, Italy and Austria, small EU-member Slovenia finds itself struggling to cope with the influx of refugees.
Slovenia, with its 2 million people, is struggling to accommodate the refugees, and to provide for them, especially given heavy rainfalls in recent days.
"On the Slovenian side of the border with Croatia, the migrants are gathered in small camps with a capacity of maybe 300 people," said DW's Catherine Martens, currently reporting from the Slovenian borders. "These camps are made up of tents that have no floors, so after an entire night of heavy rain, the water is pooling in these tents and everything is muddy."
"From these small camps, Slovenian authorities transport the migrants in buses to a bigger camp in Sentilj, close to the Austrian border. There, the migrants wait to be transported to Austria, or they just make a run across the green border."
Martens said Slovenian police had told her things were under control but the mood among the young male refugees was starting to become aggressive.
Blame game
Slovenia has been putting the blame for its difficulties on neighboring Croatia.
"We have a big problem with the fact that there are no announcements of arrivals," said Sefic. "They are coming to unassigned places, in an unorganized way, on foot," he added, saying that in some cases it was impossible to send buses to these locations to transport refugees across Slovenia to the Austrian border.
Croatia, for its part, told the Associated Press news agency it had received no answers from the Slovenian side to its queries as to where they wanted to receive the migrants.
"The refugee crisis cannot be tackled with finger pointing," Mina Andreeva, speaking for the European Commission, told the press, adding that the Commission was counting on the member states' "neighborly cooperation."
Too little, too late?
Yet with the refugee crisis unfolding, there has been more finger pointing than cooperation among EU members.
It has taken months for European interior ministers to agree on a scheme to relocate some 120,000 refugees from Italy and Greece which – bordering the Mediterranean – have been bearing the brunt of the influx of migrants.
But the United Nation's Refugee Agency UNHCR warned on Tuesday that the relocation scheme might fail if conditions for receiving migrants and capacities for registering them were not improved.
So far this year, more than 500,000 migrants have arrived via the Mediterranean at the coast of Greece, and almost 140,000 in Italy, according to the International Organization for Migration (IOM).
At a summit last week, EU leaders agreed on several measures to respond to the influx of refugees, which will take months rather than days to implement.