"This is the moment of truth for the climate," Swedish Prime Minister Fredrik Reinfeldt said as he arrived in Brussels.
World attention has focused on the EU's bid to set in law a pledge to cut emissions of carbon dioxide (CO2, the gas most associated with global warming) to 20 percent below 1990 levels by 2020.
"What we need, today, is leadership. ... We look for that leadership from the European Union," United Nations Secretary General Ban Ki-Moon told delegates at a parallel UN conference on climate change in the Polish city of Poznan.
EU leaders have repeatedly highlighted the pledge as proof that the 27-member bloc is already leading the world on climate change.
"We have reduction targets, other people don't yet," German Chancellor Angela Merkel said.
But on the morning of the summit, the French presidency of the EU proposed a watered-down set of laws on the climate-change package in a bid to win unanimous backing amid strong resistance from Germany, Italy and many Eastern European nations.
Berlusconi calls emission talk "absurd" in current crisis
"If we do not obtain what we have clearly asked for from the start, we will veto (the package)," said Italian Prime Minister Silvio Berlusconi at a pre-summit meeting of conservative leaders.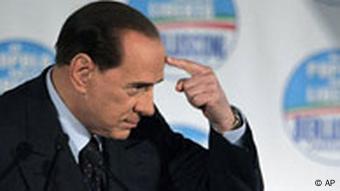 Berlusconi makes it clear what he thinks of emission cuts
Berlusconi and others fear that the costly emission cuts imposed by Brussels will make their industries less competitive at a time of economic slowdown.
"It is absurd to talk about emission (cuts) when there is an (economic) crisis: it is as if someone suffering from pneumonia were to think about having a perm," Berlusconi said.
The French government, which currently holds the EU's rotating presidency, hopes to win over their support by offering industries more free permits to emit CO2.
The original proposal from the EU's executive, the European Commission, was that most industries should buy 20 percent of their emission permits at auction in 2013, and that that proportion should increase to 100 per cent in 2020.
The idea behind the scheme is to make it so expensive for industry to emit CO2 that it becomes attractive to reduce emissions.
The French proposal is that such industries should only have to buy 70 percent of their permits in 2020 - thereby reducing the incentive to invest in new, low-CO2 technology.
The commission had also proposed that power generators should have to buy all their permits at auction from 2013.
Poor, coal-reliant countries force EU's hand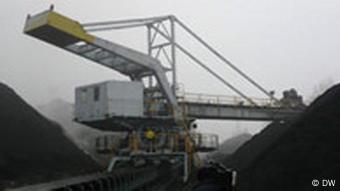 Coal-reliant Poland took a step closer to its reduction target
But after bitter protests from Poland, which is reliant on highly- polluting coal for most of its electricity, the French presidency proposed that power stations in poor, coal-reliant countries should only have to buy 30 per cent of their permits at auction in 2013, with full auctioning not becoming the rule until 2020.
Polish diplomats said the proposal looked attractive, but that they would require more information on the way it would be applied before coming to a decision.
Debate also loomed over a set of proposals to give extra funding to the bloc's poorest members by allowing them to auction a greater relative share of CO2 permits than their wealthier counterparts.
Poorer states such as Slovakia say they should be given more credit than the 10-per-cent premium proposed by the commission, while rich states such as Britain and Sweden say it should be less.
"The countries who are demanding most softening in the climate package are the ones that already have the least difficult targets in terms of GDP. Sweden has the toughest targets even though it leads the world on fighting climate change," Reinfeldt said.
But a counter-proposal from Germany and Poland to scrap the 10-per-cent clause entirely, and to give the poorer members some 45 billion euros extra in the next EU budget, ran into fire from French officials who said that it would be too costly, diplomats said.
EU officials hope that the bloc's leaders will approve a compromise at the summit by Friday, with the European Parliament due to give it final approval on Wednesday.
"The task is to think about our children and leave them a planet which is worthy of life," said Belgian Prime Minister Yves Leterme.