There's an uncanny silence: the pool splashes, palm leaves rustle - but that's all. "It's always this quiet here. I like it," says reception trainee Yolanda as she takes me to my room. Yolanda has in the past been put to the test: She used to be a flight attendant. "The children used to run around in the narrow aisles and were loud. That used to stress me out." Now the 25-year-old works for "Atlantic View," an adults-only hotel in Gran Canaria. No more children. The same applies to me for the next few days - me, a mother of two, on holiday in a hotel for adults only!
This type of hotel is becoming more and more popular. The minimum age for guests in this particular one is 16, though in most hotels it is 18. Of 182 hotels of the tourism company Thomas Cook, 41 are now for adults only. The European market leader TUI has 400 adults-only hotels in its range, while in 2014 there were just 65, most of which were in long-haul destinations such as the Caribbean. But now Europe also has a lot of them - and the numbers are increasing.
No towel on deckchair warfare among adults
My apartment has a sun terrace, and on the horizon I can see the Atlantic Ocean glittering in the sun. Slippers, bath towel and bathrobe are all here for me. My complete relaxation can begin.
On the table there is fruit, wine and a card with the following request: Please do not reserve deckchairs! The "special feel-good atmosphere" of Thomas Cook's adult hotels is not to be upset by troublemakers who place their towels to reserve their poolside place before the crack of dawn.
"Our target group are guests between 35 and 55 years of age. Their interests: rest, relaxation, beach, wellness, sport and food", says Thomas Cook manager Sascha Büsseler. Most adults-only hotels are upscale four-star hotels.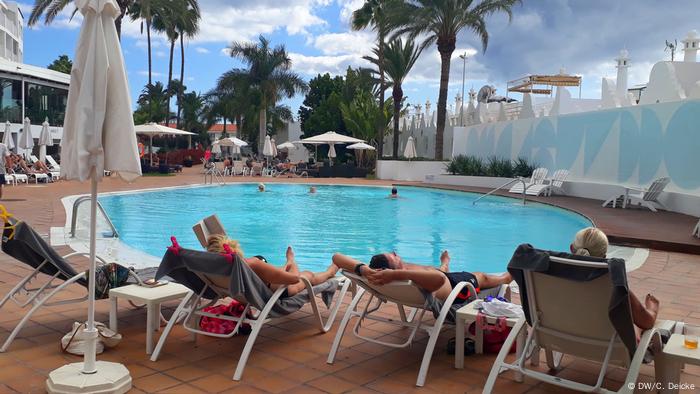 Peace at the pool: no child in sight far and wide
A pool without fear of cannonball jumps
I grab hold of the fluffy towel. At the pool, people read the newspaper, work on Sudoku puzzles or check their smartphones. Only rarely does anyone go swimming. The longer they stay under the burning sun burns, the more motionless the guests become: At around noon everyone is lounging in their deck chairs, quietly dozing off.
I remember how my 9-year-old behaved at the pool on our last vacation: First he ran wildly around the pool, then he performed a splendid cannonball splash and finally began singing loudly. Yes, I think that's amusing - as long as you're not the one responsible for the little person. But as he was my son I had to admonish, discuss, forbid. Unfortunately, children and relaxation frequently don't go together. And holidays are supposed to be relaxing - for parents too.
Now I find myself calmly writing a postcard to my family. Then I start reading a book. After 10 minutes I interrupt my reading - out of habit. I'm so used to having someone asking me to do something for them. But that doesn't happen. What I'm experiencing here is hardcore relaxation.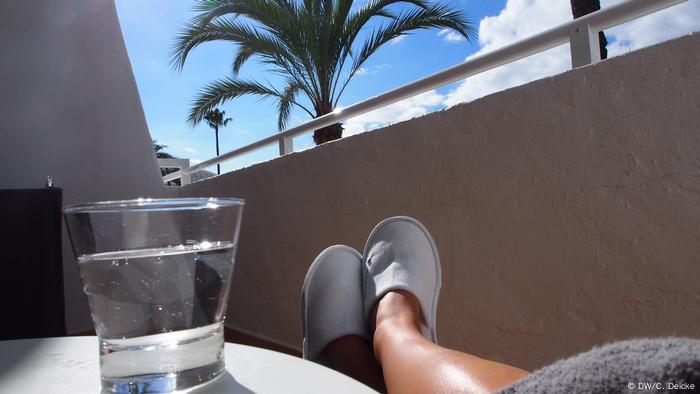 Slippers and palms - holidays can be this enjoyable
Holidays with friends should also be possible
In the summer, a debate erupted in Germany. A restaurant on the holiday island of Rügen decided to stop serving children after 5 p.m. Others followed suit and the indignation was great: It was claimed that this was "hostility towards children."
What is relatively new in restaurants has been around for a long time in hotels. Thomas Cook opened the first adults-only hotel around the turn of the century - on the family holiday island of Majorca.
Some guests at "Atlantic View" may have nothing to do with children, but the majority have their own: "We deliberately booked an adult hotel," says Sabine from North Rhine-Westphalia.
She's here with three friends, all around 50, and all of them have children at home. Sabine also finds it "extremely quiet" in the hotel. "But you can endure it for a few days. The madness will return soon enough," she says as she happily hands freshly filled sangria cups to her friends in the pool.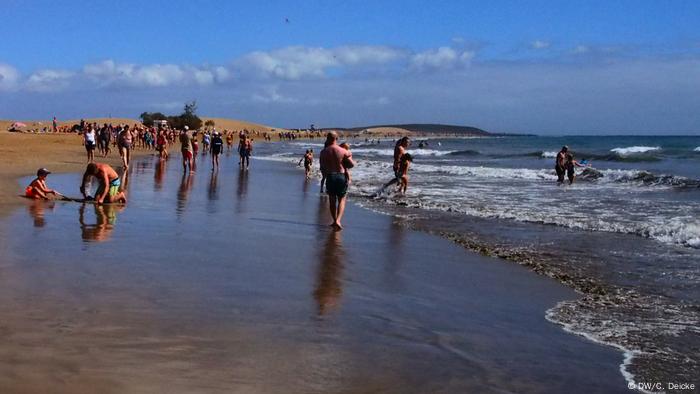 Beach of Maspalomas in Gran Canaria
Hustle and bustle on the family beach
After just a single day in an adult hotel, I'm delighted by the children on the bus to the beach, as they point their little fingers towards the sea and ask: "Are we there yet?" On the bustling beach of Maspalomas, they paddle through the water, dig holes, exuding a pure joy of life! One couple has four children with them - all boys, all wearing the same swim suits - so cute!
I walk the six kilometers to the promenade in the tourist resort of Playa del Ingles and find myself surrounded by souvenir shops, restaurants and a hectic atmosphere. Through a concrete desert I head back towards my hotel. The south of Gran Canaria is dominated by mass tourism. One hotel follows the other. I happily plunge myself back into the silence of the "Atlantic View".
'Staycation': the new word for 'doing nothing'
At breakfast, a closely entwined young couple watches as coffee flows into their cups. The two of them seem to be enjoying their holiday very much. I am the only single person here surrounded by couples, most of them in their mid 50s. There are also some people in their 20s and senior citizens here, as well as families with grown children, many from Scandinavia.
Like 28-year-old Johanna Heikkila, slim, blonde, clad in sportswear. The Swedish woman and her parents are spending a week in the hotel. They are regular guests, come here every year and enjoy the child-free concept. "I love children, but on holiday I definitely prefer hotels without them," says Johanna. The lawyer works for a financial company in Stockholm: "That's stressful enough. On vacation, I like my peace and quiet. She and her parents hardly ever leave the hotel.
"The hotel itself is becoming more and more important, almost more important than the actual travel destination," says manager Sascha Büsseler. This fits in well with a trend called "staycation": "This means a holiday like at home with all comforts, in stylish surroundings, with good food and suitable sports and wellness offers. So: feel like at home. And if you belong to the target group addressed, you'll be happy to stay in an Adults Only Hotel without children."
Finally a work-out without disturbances
Time for an hour of "Easy Yoga" with hotel instructor Lotta. The exercise room is full, some 15 sports enthusiasts follow the instructions of the Swedish woman. Here in the hotel there are a range of free-of-charge offers: yoga, water aerobics, circuit and core training, plus a fitness room and a tennis court. A wellness area is also part of the hotel.
We meditate and stretch. One hour of sport - undisturbed! At home I usually only manage to do a 10-minute fitness app work-out, where my efforts are commented on in great detail by my sons.
Discreet charm and free drinks
The dinner buffet is varied and beautifully arranged. I eat prawns, green asparagus with ham, grilled fillet of beef, seafood, and papaya. Candles illuminate the tables with discreet lighting and an endless supply of drinks are included in the price to help the couples unwind.
Prominently placed in the hotel shop: liquor instead of chocolate
It has been a long time since I have had so much peace and quiet - time to read, write and talk to friends on the phone. However, there's seldom anyone who laughs loudly, is high-spirited and wild like only children can be. Nobody screams and argues. As a family person, I first had to get used to this strange situation, but I found that holidays without children can be very relaxing.
Note: This article was written during an individual press tour in cooperation with Thomas Cook.