Fierce fighting shook the surrounds of the capital Juba over the weekend, killing people and driving terrified residents from their homes, local media reported.

"Heavy fighting has been going on for the past three days," rebel spokesman Peter Gadet told the Sudan Tribune website.
Details about the weekend's clashes are still not clear, and it was impossible to verify whether the fighting was started by rebels aligned with former Vice President Riek Machar, or President Salva Kiir's troops.
The rebels were ready to attack the capital Juba if they were given orders to do so, Gadet added.

South Sudan's govermnent, however, was undeterred by the threats.

"Machar's group has no capacity to attack Juba. If it was possible for them, they would have done so long time ago," President Salva Kiir's spokesman, Ateny Wek Ateny, told Uganda's Daily Monitor newspaper.

Kiir and Machar "show no willingness for peace"

Even before violence broke out over the weekend, Germany's government called for more action to end the violence in the country.
"The leaders of both parties to the conflict show no real willingness for peace," the German ambassador to South Sudan, Johannes Lehne, told DW. "I hope that the Security Council bears this in mind when it extends the mandate of UNMISS."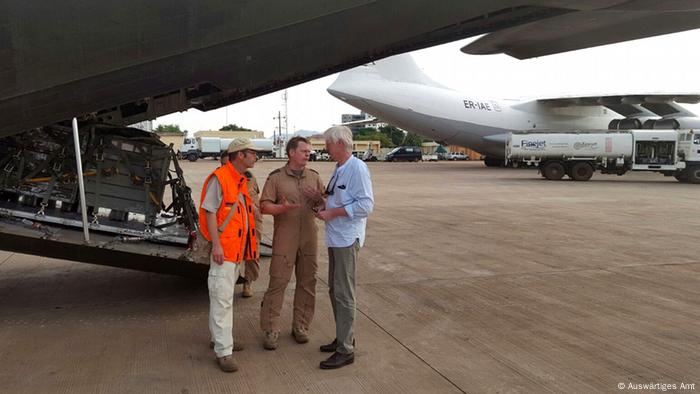 German ambassador Johannes Lehne during the evacuation of German citizens (far right).
Last Friday, the UN Security Council extended the mandate of UNMISS, the United Nation's peacekeeping mission in South Sudan, until August 12th. The short-term renewal is designed to allow more time for discussions about a more robust mandate for the mission.
UN peacekeeping mission unwilling to fulfill its mission?

The U.S. ambassador to the United Nations, Samantha Power, told the council last Friday that the mission in its present form had proven itself "unable and in some cases unwilling" to fulfill its mandate. UNMISS currently has some 12,000 military personnel and police.

"The international community must not allow South Sudan to sink into chaos and violence. Diplomatic means and sanctions need to be used to push both sides to return to the peace agreement," German Ambassador to South Sudan Johannes Lehne said.

Like many other countries, Germany closed its embassy and withdrew its diplomats from Juba after the latest round of violence erupted. Fighting broke on July 8th, ahead of the country's fifth anniversary of independence, killing hundreds and shattering a two-month peace deal between President Kiir and rebel chief Riek Machar.

Humanitarian crisis could escalate

Ongoing violence between government and rebel forces has also worsened the humanitarian crisis in the world's youngest nation. South Sudan was already one of the poorest countries on earth before with close to 5 million people in dire need of food aid. Now, millions have fled their homes and the economy has largely collapsed.

At the same time, aid organizations are struggling to reach those in need.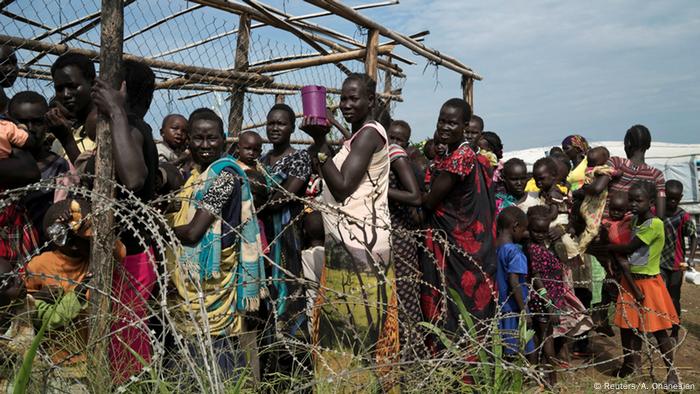 Relief organizations struggle to assist people displaced by fighting.
"We had to pull out our staff from a project in the north of the country several times because of fighting nearby," Frido Pflüger, director of the Jesuit Refugee Service (JRS) in Germany, told DW.
"Then the staff return and have to start all over again; there is no continuity," added Pflüger, who was in charge of the organization's projects in East Africa from 2008 to 2012.

"The international community must not accept that"

In a statement late last week, JRS and nine other aid organizations warned that the delivery of aid might become logistically impossible if security conditions worsened.

Even the United Nations are affected by the violence, Pflüger said.
"Stores of the World Food Programme have been looted. Food supplies for more than 200,000 people have been stolen. The international community must not accept that," he added.