In Zurich, representatives from the Confederation of North, Central America and Caribbean Association Football (CONCACAF) met on Tuesday for their confederation meeting ahead of Friday's FIFA Congress. FIFA President Sepp Blatter addressed the CONCACAF representatives, saying he is "always an optimist" with regard to the vote that could see him elected to a fifth term.
His one opponent, FIFA Vice President Prince Ali Bin Al Hussein, was also given the opportunity to address the CONCACAF meeting, despite earlier reports that he had not be invited to speak.
Neither man commented on what he had said in the closed-door meetings.
A number of similar 'pre-meetings' are expected to take place this week ahead of the FIFA Congress, giving Blatter, and perhaps Prince Ali, other opportunities to address the 209 national soccer federations that will cast ballots for FIFA's next president on Friday. Each member's ballot counts the same, irrespective of that country or federation's size or status.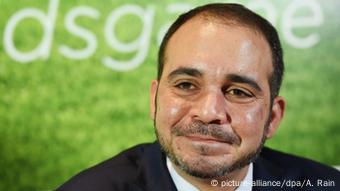 Prince Ali is Blatter's only challenger
Blatter's other rivals in the presidential race, Michael van Praag and Luis Figo, withdrew last week, urging their supporters to side with Prince Ali, who also received a vote of confidence from UEFA's Michel Platini on Monday.
Blatter is considered almost a certainty to win re-election despite a number of hot-button issues currently simmering within FIFA.
The most pressing can be considered the Palestinian Football Association's bid to suspend Israel from FIFA for unfair treatment of Palestinian players.
Palestinian Football Association president Jibril Rajoub believes restrictions placed on the movement of Palestinian players by Israel are grounds for suspending Israel, as well as the participation of five clubs located in Jewish settlements within the occupied West Bank in the Israeli championship.
Blatter recently held talks with Israeli Prime Minister Benjamin Netanyahu and Palestinian President Mahmoud Abbas in an effort to keep the matter from even being put to a vote at Friday's FIFA Congress. This would require Rajoub to withdraw the motion. If Israel's expulsion is put to a vote, Rajoub would likely struggle to come up with the three-quarters majority needed for the measure to pass.
Palestine has been a member of FIFA since 1998.
FIFA has also been under fire for the lack of transparency in how it made the decision to award Russia and Qatar the World Cups in 2018 and 2022, respectively. An independent review of the Qatar bid at the behest of FIFA has been completed but not released to the public.
mz/msh (AFP, dpa, Reuters)