Whatever you think of him, the Cuban revolutionary and politician Fidel Castro leaves nobody cold. Born in the small town of Biran on 13 August 1926, Fidel Castro is still one of the most colorful figures on the world stage.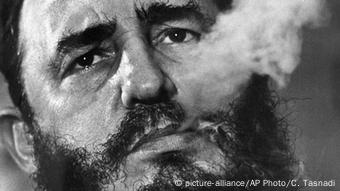 Fidel Castro has reportedly survived 600 assassination attempts.
Roberto Chile was the Máximo Líder's personal photographer for many years and caught a lot of his historic moments with the camera. We meet people who are close to him: close companions, friends, his niece Mariela Castro and his son Alex, who talks for the first time on camera about Fidel Castro's family life. Piece by piece, we reveal a little-seen side of Castro: how he personally perceives the key moments in his own life, from the early days of the revolution and the Cuban Missile Crisis to his handing over power. The private Castro becomes visible in a fascinating portrait of a living legend.
Broadcasting Hours:

DW

SAT 13.08.2016 – 19:15 UTC
SUN 14.08.2016 – 01:15 UTC
SUN 14.08.2016 – 07:15 UTC
SUN 14.08.2016 – 15:15 UTC
MON 15.08.2016 – 05:15 UTC
MON 22.08.2016 – 09:15 UTC
SUN 28.08.2016 – 03:15 UTC

Lagos UTC +1 | Cape Town UTC +2 | Nairobi UTC +3
Delhi UTC +5,5 | Bangkok UTC +7 | Hong Kong UTC +8
London UTC +1 | Berlin UTC +2 | Moscow UTC +3
San Francisco UTC -7 | Edmonton UTC -6 | New York UTC -4

DW (Amerika)

SUN 14.08.2016 – 09:15 UTC

Vancouver UTC -7 | New York UTC -4 | Sao Paulo UTC -3