After news of Fidel Castro's death was announced late Friday, many African leaders reacted with words of condolence, praise and solidarity with the controversial leader.
One of the first reactions came from South African President Jacob Zuma, who thanked the Cuban leader for his help and support in the struggle to end apartheid.
"President Castro identified with our struggle against apartheid. He inspired the Cuban people to join us in our own struggle against apartheid," Zuma said in a statement.
Former South African President Nelson Mandela read books written by Castro and fellow revolutionary Che Guevara while imprisoned on Robben Island. In a speech soon after his release in 1990, Mandela said "We have come here today recognizing our great debt to the Cuban people. What other country has such a history of selfless behavior as Cuba has shown for the people of Africa?
Many South African social media users have been sharing this photo of the two men taken in 1991.
Zuma was not alone in his praise for the communist revolutionary's role in Africa. Rwandan President Paul Kagame and Burundian President Pierre Nkurunziza expressed their gratitude and condolences via Twitter.
Nigerian President Muhammadu Buhari was also full of praise for Castro.
"Castro's place in history is assured, given his sustained successful commitment and towering role in the liberation and anti-colonialism struggles in Africa," he said in a statement.
Battleground Africa
In the 1970s, Castro was convinced that the "world revolution" was happening in Africa and that Cuba needed to become the first Latin American nation to go to war outside its own continent.
The two main countries Castro supported with troops were Angola and Ethiopia. The two countries soon became symbols of the Cold War, where Washington and Moscow battled for ideological supremacy.
Cuba sent troops to help Angola in their war for independence from Portugal in the mid 1970s and assisted the Ethiopian army with troops to fight against the invading Somali army in the late 1970s.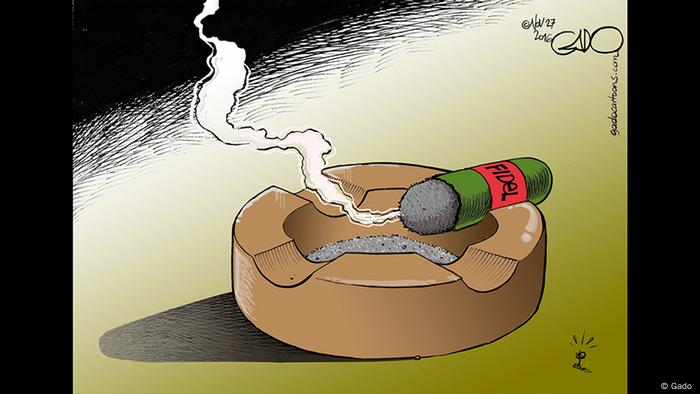 Kenyan cartoonist Gado reacted to Castro's death with this drawing, called the 'End of Fidel Castro'
The ruling party in Angola, MPLA, said in a statement that Fidel Castro will be "always present in the heart of the Angolan people and will be an inexhaustible source of inspiration" for generations to come.
An estimated 4,300 Cubans died in conflicts in Africa, half of them in Angola. Many experts believe this number has been sharply underestimated.
'A great friend'
One of the biggest fans of Fidel Castro in Africa is veteran Kenyan opposition leader Raila Odinga, who named his son Fidel Castro Odhiambo Odinga in honor of the Cuban leader.
"In many ways, Castro was a great friend and true friend of Africa and other parts of the world that had to fight long and bitter wars to attain freedom from colonialism," he said.
Odinga's son Fidel died in 2015 at the age of 41.
Since the 1960s, Cuban troops have served in Algeria, Guinea, Guinea Bissau, Equatorial Guinea, Sierra Leone and Libya. Cuba remains engaged with Africa, and even sent 300 doctors and nurses to West Africa to help combat the Ebola virus.