Italian carmaker Fiat has signed a deal with China's Guangzhou Automobile Group (GAC Group) to build a factory in China. According to a Fiat statement, the deal includes plans to build a 400-million-euro ($559 million) factory in Changsha, the capital of Hunan Province.
The factory is slated to cover an area of 700,000 square meters (7.5 million square feet) and is to have an initial capacity to produce 140,000 cars and 220 engines per year. Fiat and the GAC Group hope to raise those numbers to 250,000 and 300,000 respectively.
The agreement was signed on Monday in Rome by Fiat CEO Sergio Marchionne and GAC Group Chairman Zhang Fangyou in the presence of Italian Prime Minister Silvio Berlusconi and Chinese President Hu Jintao, who is in Italy this week to attend the G-8 summit in L'Aquila.
Second merger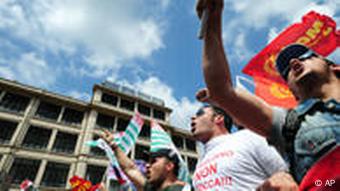 Fiat workers took to the streets in protest when news of the deal with Chrysler spread
This is the second alliance that the Italian automaker has forged in as many months after taking a 20 percent stake in the struggling US car manufacturer Chrysler. That bond would grow stronger if Fiat manages to raise its stake to 35 percent or take control of the company.
Fiat said that cars produced at the Changsha plant would be equipped with engine and transmission technology in line with the Chinese government's requirements to develop fuel-efficient, low emission vehicles.
The first model to be launched is to be the C-segment Linea sedan. The Fire 1.4-liter, 120 and 150 horsepower are to be the first engines off the line.
mrm/dpa/AFP
Editor: Chuck Penfold