World leaders sent their congratulations to Angela Merkel after the German chancellor secured a victory as head of a new coalition government consisting of her Christian Democratic party and the free market Liberal Democrats after Sunday's parliamentary elections.
Leaders including US President Barack Obama, British Prime Minister Gordon Brown and French President Nicolas Sarkozy all spoke of continuing and expanding their working relationships with Merkel in addressing common challenges.
But now the bunting and champagne corks have been swept up across the country, questions are starting to be asked as to whether this new Germany under a center-right government will change its approach to the so-called common challenges on the international stage.
The new coalition will have domestic issues at the top of its agenda as many of these were central to the campaigns used in getting both partners elected. However, Germans will also be wondering if a new approach to international affairs will also come from this new partnership - and they won't be alone in watching with interest.
President Obama will be keeping a specific eye on how Germany's policy towards Afghanistan develops if, as expected, FDP leader Guido Westerwelle becomes Germany's new foreign minister.
Afghanistan policy unlikely to change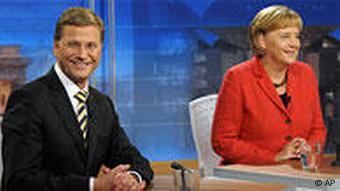 Westerwelle and Merkel both oppose sending German troops into combat
Things are unlikely to change, however, as both Merkel's conservatives and Westerwelle's liberals support Germany's involvement in Afghanistan. Westerwelle himself has made it clear that he opposes widening the role of German troops deployed against the Taliban, a consistent irritant to US military planners who regularly called on the previous government to commit Bundeswehr troops to combat operations. It is therefore unlikely that the new coalition will cave in to increased calls from the US and other NATO partners to move German troops into more dangerous areas of Afghanistan.
"There won't be any significant change in Germany's involvement in Afghanistan," Thomas Klau, a foreign policy expert at the European Center for Foreign Relations, told Deutsche Welle.
"In fact the new government will find it marginally easier to pursue the policy of the previous government. The Afghanistan mission is widely unpopular within the German electorate and it was particularly hard for the Social Democrats with their pacifist traditions to defend Germany's involvement. It should be easier for the CDU/CSU-FDP coalition government to sustain Germany's engagement even if it remains a position which is unpopular at home and with a large part of their own electorate."
While there may be no change in Germany's stance to sending its soldiers into battle, FDP members share the views of many within the conservative bloc that a timetable for the withdrawal of German troops should be set.
"What Westerwelle said in the latest Bundestag debate, which came after the tragic airstrike and loss of civilian life, that it would be wrong to leave in haste and that it was vital to show solidarity and be in Afghanistan for as long as it was necessary," said Klau. "He did say that it was important to improve Germany's strategy and have criteria in place for future disengagement but I don't expect there to be any strong pressure from Westerwelle towards any change to Germany's position in Afghanistan."
Germany to remain firm on Iran diplomacy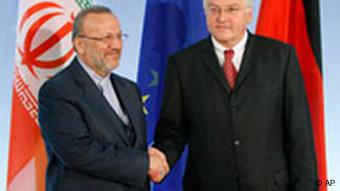 Steinmeier won't be there to talk to Iran but Germany will
Another area in which Obama, along with President Sarkozy and Prime Minister Brown, will be keenly interested is Germany's approach to Iran.
In Germany, all the main political parties are committed to a diplomatic approach in dealing with the problems arising from Iran's nuclear ambitions. Therefore, the new coalition government will continue to participate in dealing with Tehran as part of the Five plus One group – the five permanent members of the UN Security Council plus Germany – while supporting President Obama's call for direct talks with the Iranian leadership. The new government is also likely to support tougher sanctions should Iran refuse to cooperate.
"On the whole, the key watch word will be continuity so I don't expect to see any significant impact of Germany's policy toward Iran coming from the result of this election, " said Klau. "Germany will continue to play a part as one of the European countries taking the lead in the EU on this issue but I don't think the new coalition's policy will differ from that of the previous one."
A stronger hand with Russia?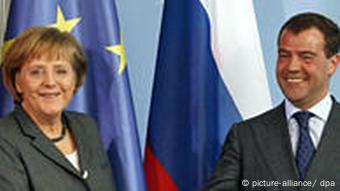 Merkel may feel more empowered to pressure Russia
While some quarters of the Russian media called the German election "one of the most boring in the history of democratic Germany" and focused on voters' "record apathy", the Kremlin will be more interested in how Germany's new government approaches its relations with Russia.
Experts believe that a new center-right coalition will take a stronger line with Russia on human rights but will continue to foster pragmatic relations with Moscow on energy and economic issues.
"There is a range of opinions on Russia in Germany but they're not so much opinions pitting one political party against another," said Klau. "There are more confrontational approaches, insisting on the respect of human rights and pointing the finger at the major problems in Russian democracy, and there is the approach which stresses the need for positive engagement with Russia, relying on a dynamic of partnership rather than a dynamic of confrontation. And you'll find people from both sides in the three main political parties.
"Westerwelle recently called for a relationship with Russia that was both critical and based on a partnership approach," Klau added. "You have to understand that the business-orientated FDP looks at Russia in those terms so despite their record for upholding human rights and democracy in their foreign policy, I wouldn't expect a radical shift in relations with Russia."
Liberal brakes to be applied to financial reform policies
With a business-oriented junior partner in the coaltion, the Christian Democrats could be expected to be firmer on their favored courses of action in dealing with international partners in solving the global financial crisis. But Friedrich Krotz, an economist and social scientist at the University of Erfurt believes the FDP may actually make Chancellor Merkel's job of convincing the world to take on more regulations even harder.
"The liberals don't support any of these regulatory measures in their policies," he told Deutsche Welle. "So Germany's policies in dealing with the global financial crisis may change and become more traditional in the sense that they will be a bit more conservative and there will be a bit more control but on the whole they will stay similar to those which were in place before the crisis hit."
A business approach to climate change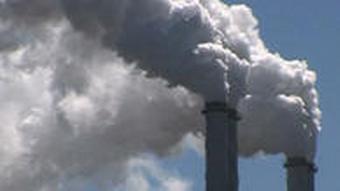 Germany will continue to push for a replacement for Kyoto
The FDP's involvement in a new coalition is also expected to give the government an extra kick in its support for businesses which may manifest itself in Germany's approach to climate change.
The FDP shares the conservatives' support for the German car industry and opposition to taking steps that would damage it. This could complicate Germany's stance in relation to European Union policies aimed at reducing CO2, despite both parties professing support for EU goals to reduce emissions.
On an international scale, the conservatives and the FDP both support a successor to the Kyoto Protocol, a stance supported by the previous coalition.
Author: Nick Amies
Editor: Michael Knigge