Earlier this week, Mukesh, 30, a carpenter by profession, had a fight with his wife over a domestic issue in the Jhajjar district of the northern Indian state of Haryana. He vented out his anger in a brutal way - he hanged his three young daughters to a ceiling fan and thrashed them ruthlessly with a cane.
His four-year-old daughter Jiya succumbed to injuries, while the other girls - seven-year-old Payal and three-year-old Varsha - are in a critical condition.
A week ago, Afreen, a three-month-old girl, was reportedly beaten and abused by her father Umar Farooq. Farooq wanted a boy. Afreen bore torture marks on her body and her neck was dislocated. She died of cardiac arrest in a Bangalore hospital after battling for life for a day.
"Female genocide"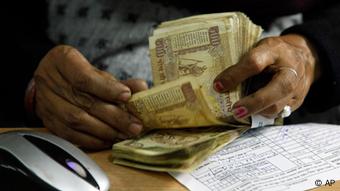 India has one of the fastest growing economies in the world
These incidents are rampant in many parts of India, where age-old traditions combined with illiteracy continue to mock the Indian government's claims of progress and economic growth.
"A woman's status in her husband's house in countries like India is determined by the dowry she brings with her. That is why women are unwanted in our societies," Donna Fernandes, a women's rights activist told DW, adding that India is witnessing a kind of a "female genocide."
Many of these practices, Fernandes said, were so embedded in the Indian culture that it seemed almost impossible to do away with them.
"The cases we know about are the ones that are reported. There are millions of cases that are never reported. There are cases when a female child is killed inside the womb," social activist and lawyer Seema Misra told DW.
Attitudinal change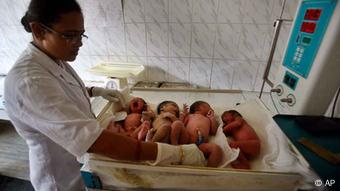 Male children are prefered in patriarchal Indian society
According to the United Nations, India is the deadliest place for female children. The UN Department of Economic and Social Affairs revealed in February this year that an Indian girl between 1-5 years was 75 percent more likely to die than a boy.
The Indian child rights organization CRY estimates say that about 12 million girls are born in India very year, however, one million of these girls die by the age of one.
The practice of female infanticide is also prevalent among the educated classes of India, including those living in big metropolitan cities.
"Though foetal sex determination is banned in India, it is practiced secretly everywhere. It is a huge business in the country," Dr. Anoop Saxena told DW.
Raveena Kaur, a child counsellor, said apart from economic factors, attitudinal change was required to stop female infanticide.
"Some people in India believe that raising a daughter is a burden. Will these prejudices ever end? I doubt it. To stop this practice, we need an attitudinal change," Kaur told DW.
Author: Murali Krishnan
Editor: Shamil Shams