Three days ago (01.03.2015), Ugandan President Yoweri Museveni reshuffled his cabinet in a move seen as a bid to reward close allies in the run-up to the 2016 elections at which he is expected to run for another term.
Some observers in Uganda see other, more underhand signs of a government preparing for an election and to retain its hold on power.
A senior Ugandan police officer, Joram Mwesigye, was arrested in Kampala on Tuesday, January 13, 2015. He was accused of beating up several journalists - sending two to hospital - as they covered a protest march against high unemployment the previous day at which young people chanted "We want jobs, we want jobs."
Mwesigye is District Police Commander (DPC) for Old Kampala police station.
The following Thursday he was charged with assaulting local television journalist Andrew Lwanga, as well as damaging two cameras. He was released on bail of 800,000 Uganda shillings ($280, 250 euros).
Andrew Langa is now forced to walk on crutches.
The Uganda Journalists Association said in a statement that 10 reporters in all were injured, or had their equipment damaged during the demonstration. The second journalist who was hospitalized was Joseph Ssettimba, according to the news agency AFP.
Activists like Robert Sempala, coordinator of the Human Rights Network for Journalists, said they were really scared about what was going to happen in the run-up to the 2016 elections and were expecting lots of attacks on independent media.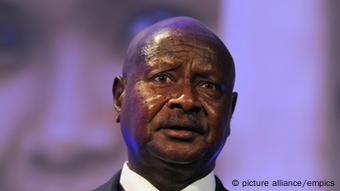 President Yoweri Museveni is expected to run for re-election in 2016 as the NRM's candidate
"We have seen armed men - more especially the police - target journalists and it seems as if this is condoned by the leadership in the police because those that are at fault are not investigated, no punitive measures are taken," he told DW.
Opposition politicians, such as Kassiano Wadri, have also been voicing their concerns. Wadri told DW there was a "well-orchestrated action to send a loud message to the press fraternity to beware, take note, that we can do worse things than we have done to your colleague."
The Ugandan police have denied that they were taking deliberate action to intimidate the media. Police spokesperson Patrick Onyango told reporters that the police would uphold the law and that any police officer involved in the abuse of media rights would be dealt with.
'Media is not free'
Robert Sempala and others who monitor the Ugandan media and its coverage of national issues are unimpressed by such reassurances.
"The pattern of events in Uganda shows that the media is not free, that the spaces are being closed down through administrative sanctions and legislation, threats and intimidation," he said.
Emmanuel Dombo is a member of parliament for the ruling National Resistance Movement (NRM).
"The media houses are not completely free because you must know that there are media laws that govern how the media houses must relate. There are also challenges within the media houses - and the environment within which they operate - which at times hinders them from performing their roles as they ought to," he told DW.
Sempala is rather more specific.
"Critical journalists are being targeted at an individual level through intimidation of media owners to lay off such personalities," he said.