"The FBI is continuing to gather facts and will evaluate whether an investigation at the federal level will be pursued," the federal law enforcement agency said in a statement on Friday.
The allegations emerged just days after Pitt's wife, actress and United Nations ambassador Angelina Jolie, filed for divorce and sought custody of their children.
US news reports cited anonymous sources as saying Pitt is under investigation by a child welfare agency because of an airborne incident on September 14.
Reports allege Pitt was involved in an angry outburst with at least one of his children. Hollywood news site TMZ alleged the actor was verbally abusive and physical with the youngsters during a drunken rage.
No probe by California agencies
On Thursday, the Los Angeles Police Department denied reports that it had put the 52-year-old "Fight Club" star under investigation.
"We have no report in our record for any filings for Brad Pitt, we are not having any investigations regarding Brad Pitt," police spokesman Lorenzo Quezada told the Agence France-Presse news agency.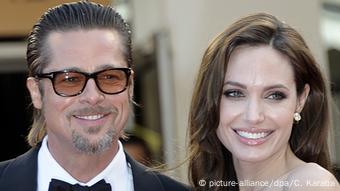 The pair married in France in August 2014
The LA County Department of Children and Family Services also denied that it had confirmed allegations against Pitt to any media outlets.
Pitt and Jolie - who have become known as "Brangelina" - have been together for 12 years but only wed two years ago in France.
Jolie's lawyer released a statement the day after she filed for divorce, saying the decision had been made "for the health of the family."
The actress is seeking sole custody of all six of the children, three of whom are adopted.
Both parties have, in separate statements, said their primary concern was their children and asked for privacy.
Some media have suggested that Pitt and French actress Marion Cotillard have been romantically involved, which Cotillard has denied.
mm/jil (AFP, AP, Reuters)