"We live from berries and roots," one woman said. She fled with her children to a refugee camp in the north of South Sudan. "Things have become terrible since the fighting started. We don't know how we are going to feed ourselves," she said.
Aid workers in South Sudan are also worried. The United Nations is warning that the food shortage troubling the strife torn country is threatening to turn into famine. The number of people suffering from hunger could rise to four million - that's almost half of the population - by August. The UN has described the crisis as "currently the worst in the world."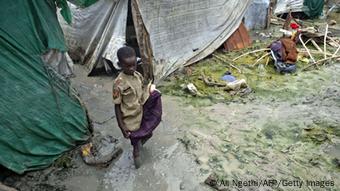 Around a million children under the age of five are in desperate need of food
"The number of women and children queuing up for food hand-outs is increasing dramatically. They often have to cover 100 kilometers (62 miles) on foot to reach our centers," said Gareth Hughes from the British organization Tearfund. People are unable to grow food themselves because the fighting has driven them off the fields. They haven't been able to till the land.
"The situation is getting worse, because normally, in July and August, people are starting to harvest their crops. But people haven't been able to plant their crops this year," Hughes said.
Almost two million refugees need help
The three states hit the worst are Upper Nile, Jonglei and Unity State according to John Kolff, who has been working for the Dutch organization Cordaid in South Sudan's capital Juba for the last three years. He recently visited the north of the country. "The fighting mostly takes place in these three states and whole cities have been razed to the ground," he said. Neighboring states are also affected because of the refugees flooding across their boundaries in search of sanctuary.
Kolff said 1.9 million refuges need assistance and assumes that number will have doubled by the end of the year. His figures tally with estimates from UN relief agencies.
"We have been warning of famine for months" said Sue Lautez from the UN's Food and Agriculture Organization (FAO) in South Sudan. "It is not only hard for people to find food - access to water, health facilities and everything you need to survive is also difficult. The situation gets worse by the month," she said.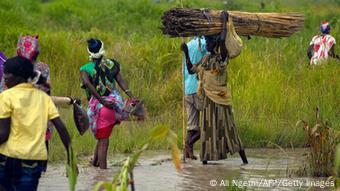 Many South Sudanese were forced to flee because the fighting and have been unable to work in the fields
Fighting and poor infrastructure
It is not only the fighting which is making it difficult for aid agencies to reach people in need, it is also the poor infrastructure as well. "Inside Juba there are a few good roads," said Kolff. The rest are a big challenge. It is also difficult to transport supplies by air because during the rainy season many of the airstrips are unusable. "Our workers walk for up to five hours through flood water to get to the feeding centers and to reach the children who are in desperate need of help," said Hughes.
Father Jacob Solomon is an Ethiopian missionary who has lived near the city of Bentiu in Unity State for the last three years. He said he has seen many children die. He said he goes to visit families who have invited him to pray for those who have perished, literally because of lack of food. "And I could see that people are not even having the strength to bury the dead," he told DW.
All aid organizations insist that it is essential to react now and not to wait until the famine arrives. That happened in 2011 when all warnings of famine in Somalia and on the Horn of Africa were ignored. "The world should not wait for a famine to be annnounced while children here are dying" said Anthony Lake, executive director of UNICEF. In 2011, more than quarter of a million people died before the crisis was declared official.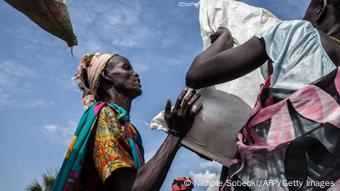 Aid agencies say it is difficult to gain access to those in need, especially during the rainy season
Peace deal needed
Hughes said one lesson learned from the East African food crisis in 2011 was that the international community needed to act fast in order to prevent a famine. "The more we can respond now, the better chance we have at saving children's lives and preventing a famine over the next couple of months," he said.
The UN said Somalia faces yet another famine because of the persistent drought. 50,000 children are suffering from malnutrition and if help doesn't arrive soon that figure will leap dramatically. They have already been fatalities," said Mohammed Guleit, formerly of the World Food Program (WFP).
Rapid assistance is required in both South Sudan and Somalia if famine is to be avoided. But the long term, according to Father Solomon, South Sudan's warring factions will have to negotiate a peace deal. Then people will be able to return to their fields and feed themselves.