The Food and Agricultural Organization (FAO) has just launched an urgent appeal for more funds to stave off a worsening hunger crisis in drought-hit southern Africa. Poor harvests in what is the region's worst drought in 35 years means that many families ran out of food in August. These food stocks normally last until October.
In Malawi, some 6.5 million people need food aid. That's nearly 40 percent of the population and it includes 3.5 million children the UN children agency UNICEF said.
Undernourishment and weight loss is a key problem. But a small number of Malawians are overweight and the figures have been steadily increasing.
Obesity statistics
In the year 2000, a survey revealed that 9 percent of Malawian women aged 15 to 49 were overweight. By 2010, that figures had crept up to nearly 14 percent. The same survey also revealed that 2 percent of the Malawian population was obese.
On its website, the World Health Organization said that a person is considered obese if their body mass index (BMI) is 30 or more. BMI is calculated by dividing a person's weight in kilograms by the square of their height in meters.
People with a BMI of 25 or above are considered overweight. Over ten years - from 2000 to 2010 - the number of obese Malawians doubled from 2 to 4 percent.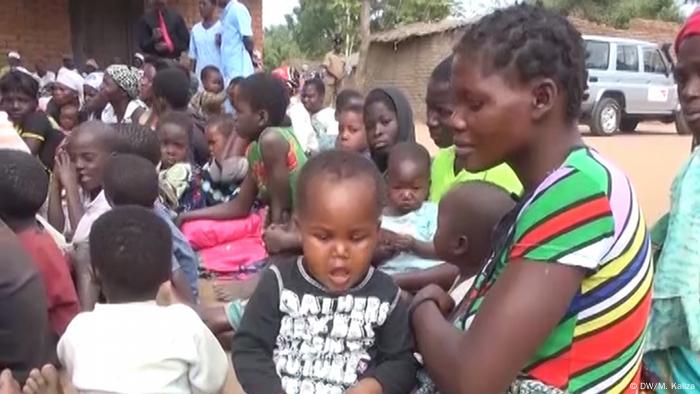 Malawians attending an outreach meeting on public health. Some need to make lifestyle changes, health workers say.
Zione Kalumikiza, an expert on nutrition at the Lilongwe University of Agriculture and Natural Resources, told DW that people who are obese and overweight may have "problems of breathing and sleeping." Other consequences are hypertension (abnormally high blood pressure) and diabetes.
Kalumikiza said that obese Malawians tend to be urban dwellers with a higher than average standard of education, a segment of the population which does little physical exercise and has acquired a taste for junk food.
Lifestyle changes
Daniel Kaynemba is the coordinator for non-communicable diseases at Malawi Kamuzu Central Hospital. He said that his facility sees more than 50 patients a day who suffer from either hypertension or diabetes, diseases which are attributable to lifestyle choices.
"Apart from giving them medication, we advise them to change their lifestyle. We urge them to exercise and recommend what foods they should eat," he said. Those who are overweight or obese are advised "to reduce their weight, maybe by going to the gym."
Malawians DW spoke to are aware of the problem and have also given some thought as to how it originated.
"People here in Malawi think that when they have a baby that is very fat they have a healthy baby," one Lilongwe resident said.
Chief clinical nutrition officer Blessing Muwalo told DW that they were "currently developing structures at the community level in the form of care groups" in order to give people vital information about a healthy lifestyle and diet."