Somalia, Iraq, Yemen, Sudan, Afghanistan, and more recently Mali and the Central African Republic, are symbols of chaos, violence and failure. These countries top the list of the annual Failed State Index published by the US think tank, Fund for Peace (FFP).
The rest of the world has long viewed these unstable countries as a regional problem. But, after the terror attacks of September 2001 in the United States, the international community began looking at these countries as a global security risk.
As many of these states have lost control of large swaths of their territory, the lawless areas have become havens for extremists, terrorists and ordinary criminals. Afghanistan, Yemen and Mali, for example, still harbor well-organized pockets of al Qaeda terror affiliates.
The situation is especially apparent in Somalia, where clan chiefs and rebel leaders toppled the country's weak central government in 1991. A transitional government, installed in 2004, was not even able to protect itself. Kidnappings, bombings and assassinations were a daily occurrence. It took an incursion of Kenyan armed forces to finally push back the radical Islamist Shabab militia. What's more, independently operating Somali pirates in the north of the country have been a threat to international shipping for years around the Horn of Africa.
Lawless refuge
The United States and the European Union have since adjusted their security strategies to the ongoing challenge. In 2003, the EU identified the crumbling states as a major new threat to European security. However, Tobias Debiel, an expert on development research, said these fragile states are not automatically doomed to become base camps for terrorists. The director of the Duisburg-based Institute for Development and Peace (INEF) noted that the modern, globally networked, gangs or groups generally only use the uncontrolled areas temporarily.
In most cases, lawless territories lack the infrastructure these groups need for their activities, he said. "Frequently, terror groups in these countries have to concentrate more on getting things to work than on their 'core business' of terrorism," Debiel told DW.
German tanks in Afghanistan are only part of the German aid equation
A failed state that can no longer provide its people with basic services and which loses control of its territory only ends up magnifying the problems. In addition to terror and armed conflicts, these include organized crime, human trafficking, drug dealing, waves of refugees and a mushrooming arms trade.
This is glaringly obvious at the moment in Syria. Neighboring countries are having trouble providing the basic necessities for the flood of refugees, while concerns grow that Syria's arsenal of chemical weapons could fall into the hands of radical insurgent groups.
Danger of contagion
Failed states are, first and foremost, a disaster for the local population, but they also present a serious risk to neighboring countries. The civil war in Syria, for example, is threatening to engulf Lebanon. It is not uncommon for warring factions or guerilla groups to operate from a neighboring territory where they have some degree of safety.
"There is a real danger of contagion," said Ulrich Schneckener, a professor of international relations at the University of Osnabrück in Germany. When the same ethnic group happens to live along the frontier of a country at war, there is a real threat that the conflict will spill over into the neighboring country, he added, pointing to the situation of ethnic Pashtu clans along the border to Afghanistan and Pakistan.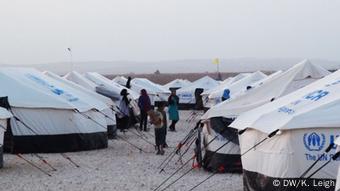 Syrian refugees are a strain on the region
The international community then often finds itself having to engage extensively in these crisis regions. It draws up aid programs, sponsors donor conferences, deploys UN peacekeeping forces, or organizes elections.
The German government, for example, is involved in a range of fragile states. Foreign and security policy is coupled with development aid. For Afghanistan, an over-arching package was developed to provide military support, infrastructure measures and the establishment of functioning political institutions.
Stabilization often not enough
According to Schneckener, international coordination with other donor countries is essential to a project's success. But there is always the danger that a single country takes on more than it can handle. The police mission in Afghanistan is a good example of that, said Schneckener.
"There was widespread criticism of the German police training program, which the Americans felt was too slow and which was not keeping pace with the changing security situation in Afghanistan," he said.
The success of international aid is often questionable. Countries, like the Democratic Republic of Congo or Afghanistan, are sometimes not stable even after years of aid and effort. Other times problems include a lack of understanding of local conditions and overly ambitious goals.
"The problem of most efforts to find a solution is ultimately that one is trying to build a state in a region that is still in the development phase," said development researcher Debiel. It is important to have a sense of what is going on there and to understand the power balance between the various national and local dignitaries and power brokers, he said. There is no pat formula for stabilization.