A number of German state interior ministers have complained that Facebook was reluctant to respond to data requests in criminal investigations; they called on Germany's justice ministry to introduce new laws forcing Facebook to comply more swiftly.
Authorities have repeatedly asked social networks for their help in uncovering possible links to militant groups following a string of attacks in the Bavarian cities of Munich, Würzburg and Ansbach in July. Facebook, however, said that it has provided "round the clock assistance" to German authorities throughout.
Police said that the bomber in Ansbach had six Facebook accounts, including one held under a false identity. Bavaria's interior minister said that a conversation held in one of those accounts hinted at the fact that the assailant may have been under someone else's influence.
Authorities fail to make detailed requests
Facebook said it had successfully produced data for 42 percent of requests in Germany relating to criminal cases in the second half of 2015, adding it had rejected requests that were overly broad or vague. By comparison, 54 percent of French applications yielded data, and 82 percent of requests from the UK.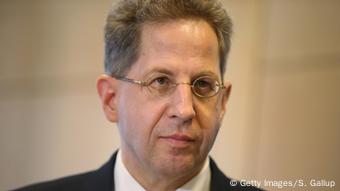 The head of Germany's domestic intelligence agency (BfV), Hans-Georg Maassen, called for better cooperation between Facebook and German authorities
Only about ten percent of the requests submitted by German authorities resulted in the barring of contents deemed to amount to some form of hate speech. Facebook said that missing reference numbers and lacking details about the indictments had often led to rejected requests in Germany. The company claimed that a large number of authorities in Germany didn't know how to make a successful request.
"Along with our points of contact in Law Enforcement, we work tirelessly to raise awareness of the correct procedures," a spokeswoman for Facebook said, adding that terrorists and their supporters were not tolerated on Facebook.
Differences between federal and state authorities
The head of Germany's domestic intelligence agency (BfV), Hans-Georg Maassen, called for a more thorough exchange of information between social networks and security agencies as part of the fight against terrorism.
"Social networks are an important communication method for jihadists. Therefore, closer cooperation between the security agencies and the operators of social networks is necessary," Maassen told the regional "Rheinische Post" daily newspaper.
Meanwhile, a spokesman for Germany's interior ministry said that the cooperation between Facebook and the BfV as well as Germany's investigative police force (the BKA) was generally good, adding that he was not in a position, however, to judge how Facebook worked with state authorities directly.
"Conversations are constructive and cooperation is also fruitful as far as we can see," he said.
A spokeswoman for the justice ministry in Berlin, however, said it was examining problems in the implementation of current laws and whether there was any need to change legislation.
ss/msh (Reuters, dpa)