In general, growth is a good thing. Germans, however, seem apprehensive when growth translates into increased migration from Southeast Europe.
Using stark rhetoric to warn of a wave of immigrants - including many Roma - from Bulgaria and Romania they fear will weaken Germany's social system and flood the German labor market, skeptics have found a forum in the country's tabloids.
Dorothee Frings criticizes this approach as "not objective." It "spoils the social climate," the professor for social law at Niederrhein University says, adding it is extremely important that politicians and the media refrain from looking at the issue under the heading "poverty migration" and "here come the gypsies."
It's simple labor migration, Frings points out. "It corresponds to the European project of open markets."
Andreas Pott, head of the Institute for Migration Research and Intercultural Studies at the University of Osnabrück (IMIS), agrees the assumptions are unfounded. "There's a lot of panic-mongering going on," he says. Pott remembers measurable migration movements after Greece, Portugal, Spain and Poland joined the EU, but points out that "the flow recedes after a few years."
Concern exceeds anticipation
For a long time, Germany had difficulties accepting migration as a fact, Pott says. As a result, the immigration debate is heavily influenced by fears rather than the conviction that migration can help build a society, the IMIS chief says.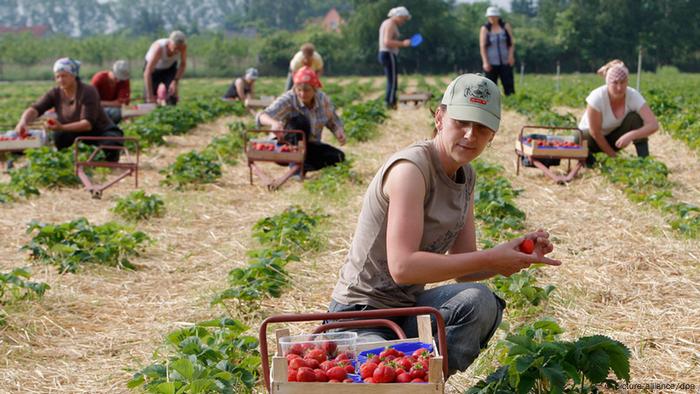 Migrant workers, indispensable during harvest season
Bulgaria and Romania have been fully fledged EU members since 2007, he says; the lifting of EU restrictions in January will give their nationals full social rights and a working entitlement. Labor mobility within the EU is no one-way street, Pott adds.
Germany stands to profit from migration, Pott says: "Demographic change and an ageing and diminishing society make migration welcome and necessary at all times." Both highly qualified and less qualified workers come to work in Germany, he says, adding the same is true concerning migration from countries like Romania and Bulgaria.
Social freeloading?
While there is widespread concern Bulgarian and Romanian nationals might apply for social benefits in droves, experts don't expect that to happen. Recent EU statistics actually paint a different picture: last year, only 9 percent of Romanians and Bulgarians living in Germany drew social benefits. That clearly ranges below the average of the entire migrant population of 15.9 percent and only slightly higher than the 7.4 percent of people in Germany who receive social benefits.
Dorothee Frings quotes German President Joachim Gauck when faced with "allegations that mainly Roma and Sinti minorities who shun work but have many children" head to Germany. Gauck said stigmatizing a group of people, and denying them the capability to integrate, is a "continuation of the unholy tradition of centuries of discreditation, ostracism and persecution."
Belief in migration as progress
The desire to live a better life in a different country is by no means objectionable, Andreas Pott says. Quite the contrary: "It shows innovation potential." That was true for German emigrants to the US, Pott says, and it's true for migrants in the European Union today.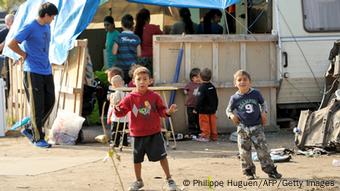 Anti-Roma prejudice is widespread
The expert concedes, however, that freedom of movement is more difficult to implement than the mobility of goods, the free provision of services or the freedom to establish business, all of which are realties in many parts of the EU.
Pott criticizes a trend he has observed for the past ten years in Germany, namely that migrants are increasingly viewed with an eye to their benefit to society. It is one thing for a country to formulate its own interests, he says, but quite another to pigeonhole people according to their usefulness, to stigmatize them or to accuse them of freeloading.
It's an inhumane point of view, he says, and adds that it not only disregards the demand for migrants at all levels of society, it also ignores the fact that migrants can acquire a higher education and come up in the world.
The migration expert urges rapidly dismantling barriers that aggravate integration in Germany. People must also begin to take a new look at the situation and realize "that we live in a society characterized through and through by migration; it's a social issue that concerns everyone."