Frattini was responding to a report by a panel of experts on people smuggling who recommended improved coordination between national and EU level authorities.
"We are obliged to pursue human trafficking from a moral as well as a security perspective," the former Italian foreign minister said. "Trafficking of human beings is a crime which often acts as a door to other serious crimes, such as… trafficking in drugs, firearms, prostitution, money laundering and other forms of organized crime," he added.
But the panel of experts the EU commissioned to examine the issue accused the bloc of concentrating solely on the process of trafficking and failing to address where the demand stems from. Merely pursuing smugglers was not enough, said the head of the panel, Marjan Wijers.
"If we look at international human rights law, states not only have a duty to prevent and punish trafficking as a violation of human rights, but also to provide the victims with adequate remedies, Wijers said.

"Up until now states have predominantly concentrated on measures in the area of crime control and migration policies rather than on victim assistance and protection. To effectively tackle trafficking this imbalance needs to be redressed."

Kidnapped and helpless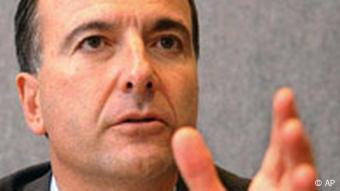 Franco Frattini
The victims are often utterly dependent on their employers as they are unable to legally apply for residence permits, Wijers said. Entire industries rely on the illegal workers who are kept as slaves, she said. The authorities should develop witness protection programs for victims willing to testify against traffickers and national referral mechanisms to identify victims.
The EU has already committed to an international convention against human trafficking, and Frattini said he would draft concrete plans for action early next year.
He cited intelligence and police information as identifying a growing demand for underage girls. Women from Eastern Europe, particularly Ukraine, Moldova, Romania and Bulgaria continue to make up the largest number of victims, while a considerable amount came from Nigeria and were brought to Britain and Italy. Kosovo and Bosnia and Herzegovina are the centers of activity for smugglers, he said.
The EU took issue with Romania and Bulgaria over human trafficking in recently completed accession talks with the countries, and now Bucharest and Sofia have to take action, Frattini said.