Any delay to the United Kingdom's exit from the European Union "must serve not to put off the problem but to resolve the problem" in the British parliament, EU negotiator Michel Barnier said Thursday.
"Today, above all we need decisions, much more than extra time," he added.
After a meeting with Barnier in Vienna, Austrian Chancellor Sebastian Kurz said he would also like to see Brexit resolved before European elections in May. It would "seem more than absurd" for a country wanting to leave the bloc to be able to vote for its legislature, he said.
On Wednesday, more than 500 MPs in the 650-seat parliament backed a plan to vote on British Prime Minister's Brexit deal on March 12. If lawmakers reject the deal, the plan foresees another parliamentary vote on whether the UK should leave the EU without a deal or delay it's March 29 exit date.
UK approach
May has been struggling to gain enough support from hard-line pro-Brexit MPs within her Conservative Party and Northern Ireland's DUP party, which props up her government, for the existing withdrawal agreement.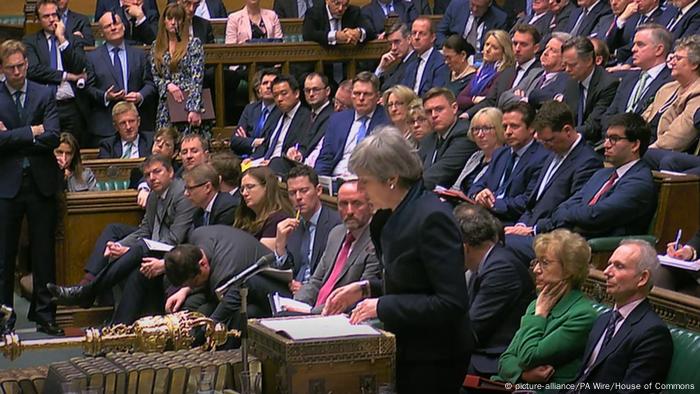 Prime Minister Theresa May speaking in the House of Commons
In recent weeks, her government has tried to convince EU leaders to accept legal guarantees that would make the deal's so-called Irish backstop temporary. Critics fear the backstop could force the UK to follow EU rules indefinitely.
But EU leaders have repeatedly said they would not agree to any legal changes to the existing deal.
Barnier reiterated that position in Vienna, telling reporters that the EU was "not going to reopen the withdrawal agreement."
Another one bites the dust
On Thursday, George Eustice, a junior minister in the UK's agriculture ministry, resigned from his post in protest of May's three-step plan.
The decision to offer parliament the power to delay Brexit would "lead to a sequence of events culminating in the EU dictating the terms of any extension requested and the final humiliation of our country," he said.
Meanwhile, the opposition Labour party has said it would put forward an amendment calling for a second EU referendum when the next "meaningful vote" is held. However, opposition to a second public vote within Labour and the Conservative Party makes its chances of success slim.
No-deal fears
With 29 days to go before the UK is scheduled to leave the EU, businesses are starting to scramble to prepare themselves for a potentially chaotic "no-deal" exit.
Drivers in the Republic of Ireland were told Thursday that they would need an insurance document to cross the border into Northern Ireland if both sides failed to reach a deal.
jm/amp (Reuters, AP)
Each evening at 1830 UTC, DW's editors send out a selection of the day's hard news and quality feature journalism. You can sign up to receive it directly here.