"This is a breakthrough," said Martin Schulz, a German legislator who heads the Socialist grouping in the European Parliament.
Swedish Prime Minister Fredrik Reinfeldt, who chaired the meeting, said it took time to consult with all of his other 26 EU colleagues.
"But it's very important to show that everyone has a say, that this is the Europe of 27, that everyone was actually in on this decision, and this also showed tonight when we unanimously could support both of these candidates," Reinfeldt said.
Agreement reached
Differences over political affiliations, geographical considerations and even gender have been a severe strain on the selection process over the last several weeks. There has even been frequent bickering over what role exactly the president should play as the top representative of the European Union.
Earlier Thursday, the Dutch premier Jan Peter Balkenende, a conservative, ruled himself out of the presidency, while Europe's Socialists publically threw their support behind Britain's Catherine Ashton as the new foreign policy chief.
The ultimate breakthrough apparently came when the move was backed by British Prime Minister Gordon Brown, who then said that London would drop its support for Tony Blair as a candidate for the presidency.
Van Rompuy: Consensus builder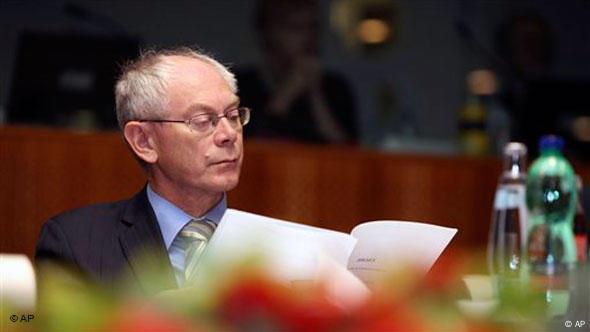 Van Rompuy is seen as a level-headed politician
Belgian Prime Minister Herman Van Rompuy, 62, has been in charge of the Belgian coalition government for less than one year. His tenure has seen a calming of the often turmoil-stricken Belgian government.
During the mid-to-late '90s, Van Rompuy held the post of budget minister under the Christian Democrat-led government of Jean-Luc Dehaene. He was regarded as a budgetary hardliner and has been critical of governments spending their way out of recession.
Prior to entering politics Van Rompuy held a position in the Belgian central bank. He is also known as having strong religious convictions and as an intellectual, and has authored six books.
Ashton: Labour ally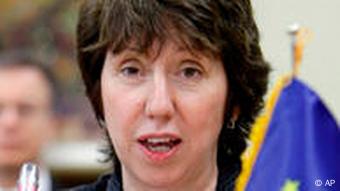 Ashton is currently the EU's trade commissioner
Catherine Ashton, 53 and formally a Baroness, has been a close ally of British Prime Minister Gordon Brown since joining the UK Labour Party.
Ashton had held a number of mid-level positions in the UK government related to education, justice and human rights before being promoted to the position of EU trade commissioner a year ago.
During her time in Brussels Ashton has been a central figure in trade negotiations with nations such as China and Russia.
Broad support from EU leaders
German Chancellor Angela Merkel welcomed the unanimous decision reached at the summit.
"The decisions were reached in consensus", said Merkel. She said that Van Rompuy had proved his ability after a very long political career and enjoyed a very, very high level of respect from Benelux countries.
After EU leaders changed tack and picked relatively unknown candidates, Merkel played down the need for high-profile figures in top European positions.
"I'm one of those people that believe that characters can grow into jobs," she said. "What is expected from someone called (by U.S. President Obama) is that he is someone who speaks for Europe and not the person who is the most well-known."
Merkel also praised the High Representative for Foreign Affairs, British Labour politician Catherine Ashton: "She is a person of outstanding ability and is very qualified for this position".
French President Nicolas Sarkozy hailed Van Rompuy's appointment as "an excellent choice". "He is an European from the bottom of his heart," said Sarkozy.
Congratulating Van Rompuy, British Prime Minister Gordon Brown stressed that he regards the post as largely ceremonial because the EU policy agenda should remain in the hands of national governments. Brown praised what he called Van Rompuy's "great qualities as a diplomat and negotiator, and a man of integrity."
Brown heaped praise on British EU trade commissioner Catherine Ashton.
"For Britain, to have the vice-president of the European Commission and the first head of the external affairs section and high representative ... shows Britain is at the heart of Europe," he told a news conference.
Brown admitted that he would have preferred seeing former British Pime Minister Tony Blair in the top EU job.
The Labour prime minister said "political party labels" had decided the nominations, after the Swedish EU presidency re-drew the "scope and nature" of the top job.
"I wanted Tony Blair to be the first president," Brown said, adding that he would "neither apologise for that nor say anything other than... he would have been an excellent president.
But Brown acknowledged that it soon became clear that the European conservative alliance wanted to have one of their own members as president of the European council.
In Washington, US President Barack Obama has also welcomed the EU decision, saying it would make Europe an "even stronger partner" for the United States.
The new positions "will strengthen the EU and enable it to be an even stronger partner to the United States adding security and prosperity around the world," the White House said in a statement.
nrt/dm/gb/Reuters/dpa/AFP
Editor: Trinity Hartman