Going against the wishes of London, European Union lawmakers passed a resolution on Wednesday calling for phased Brexit negotiations with the UK.
While Britain advocates holding exit talks and trade arrangement negotiations simultaneously, European Commission President Jean-Claude Juncker and the EU's chief Brexit negotiator Michel Barnier stressed that there would be no parallel talks.
"To succeed, we need on the contrary to devote the first phase of negotiations exclusively to reaching agreement on the principle of the exit," Barnier said.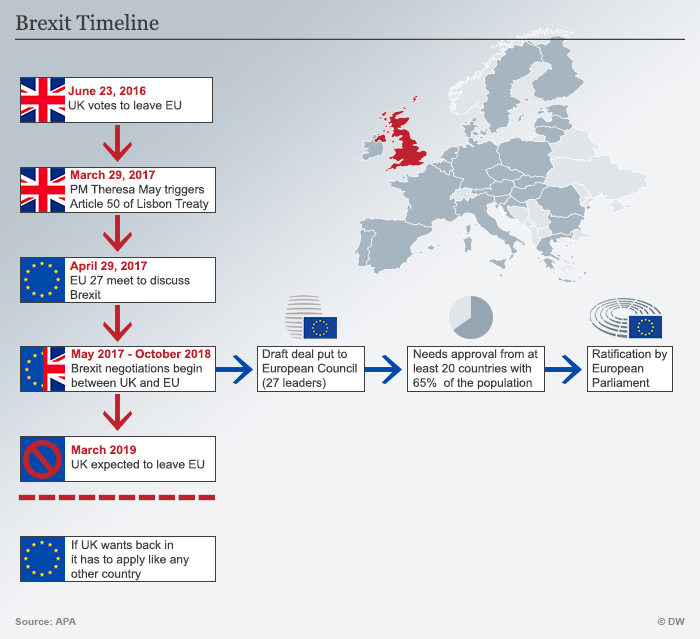 No cherry-picking
MEPs voted overwhelmingly for the resolution, with 516 for, 133 against and 50 abstentions, highlighting the tough task ahead for UK Prime Minister Theresa May.
Gathering in Strasbourg, the European lawmakers highlighted issues which they would seek to avoid, including cherry-picking by the British, an agreement at the expense of citizens and new conflicts around Gibraltar and on the Northern Irish border with the Republic of Ireland.
Read more: Spanish navy patrol shop sails into Gibraltar's waters prompting interception
Manuel Weber, the leader of the center-right coalition in the parliament and a member of the Bavarian wing of Germany's Christian Democrats, warned London of a tough negotiating position from the EU.
"A state outside the European Union can not have the same or better conditions than a state within," said Manfred Weber (CSU), agreeing with his Social Democrat (SPD) colleague Gianni Pittella.
Weber then alluded to questions about a "hard" border in Ireland, and Britain and Spain's tensions over Gibraltar, calling on all sides to keep cool heads.
"Where have we landed?" Weber asked. "Have we lost our senses? We really need to talk about digitalization, the security issues of our continent, and not about debates from previous decades."
Juncker, meanwhile, promised that the EU Commission would be "advocates of those directly affected both sides of the Channel."
Both the UK and EU have a general agreement that they want to tackle the fate of the three million EU citizens in Britain and some one million Britons working in other EU nations first of all.
"Humans are not bargaining chips," Juncker said. "They must not become a pawn in the negotiations."
Read more: Lond road to Brexit - What happens next?
Italy minister shuts down mafia comments
Ahead of Wednesday's vote, Brexit crusader and former UK Independence Party (UKIP) chief Nigel Farage outraged the European Parliament after comparing the bloc to the "mafia."
"You are behaving like the mafia. You think we are a hostage. We are not. We are free to go," he said, prompting cries of indignation and jeers from many of his fellow MEPs.
The European Parliament's Italian chief Antonio Tajani interrupted Farage to say it was "unacceptable" for him to compare the parliament to the mafia.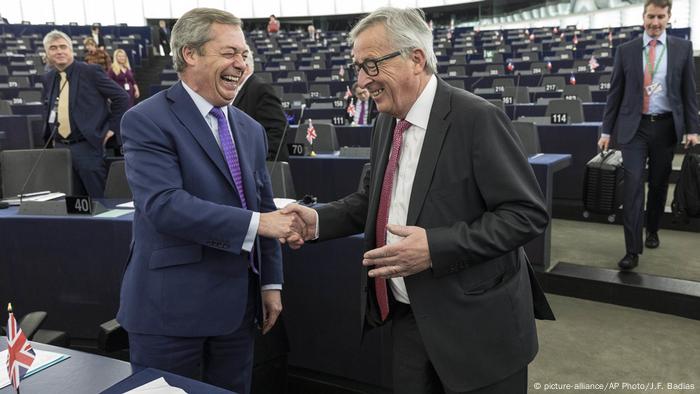 Divided on Brexit, Nigel Farage and Jean-Claude Juncker shared a laugh ahead of Wednesday's vote
"Mr President, I do understand national sensitivities," Farage retorted. "I will change it to gangsters and that is how we are being treated. We are being given a ransom note."
While parliament tried to distance itself from the war of words over Gibraltar in recents days, Farage also insisted that the British enclave was "clearly a deal breaker."
Extension of free movement
Prime Minister May, meanwhile, reportedly suggested during a trip to Saudi Arabia that the free movement of people between the UK and the EU could be extended during a post-Brexit implementation phase.
Broadcaster BBC reported that May had told media that the implementation phase would give businesses and governments a "period of time" to adjust to any new restrictions agreed as part of a Brexit deal.
Citing the same conversation, the Financial Times newspaper reported that May had suggested that London would not finalize a new trade deal with the EUuntil Brexit was complete.
ksb/msh (AP, Reuters, dpa)