British Member of European Parliament Nigel Farage will be docked half of his pay over the next 10 months after auditors found he misspent the money.
The EU inquiry focused on the role of an assistant, Christopher Adams, who was engaged to work with the Member of European Parliament (MEP). But Adams was also appointed to work within the anti-EU UKIP party in Britain as national nominating officer with his salary coming from the EU funds.
"Parliament pays salaries to assistants of lawmakers for work directly related to their European mandate," a European Parliament spokeswoman said. "In cases where the administration, after a long and detailed process, does not receive the necessary justifications for spending or European work carried out, and the member refuses to repay the money, we launch recovery proceedings."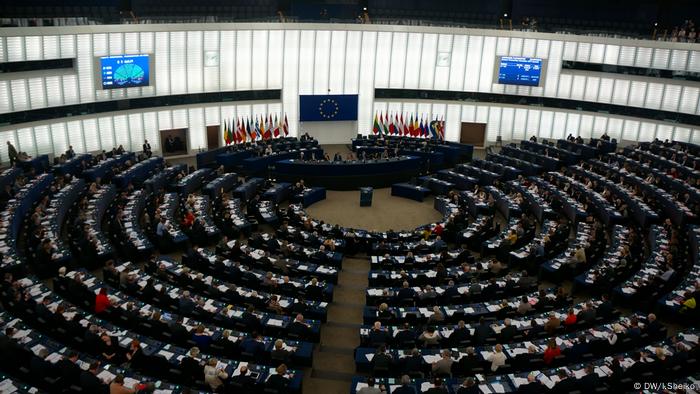 European Parliament in session last November
The eurosceptic Europe of Freedom and Direct Democracy (EFDD) political group in the European Parliament condemned the move.
"There is a vindictive campaign by the European Parliament of selective persecution of eurosceptic MEPs, parties and groups," an EFDD spokesman said on Friday. "This allegation is all part of their politically-motivated assault."
Farage has the right to appeal at the European Court of Justice.
'No money in politics'
In a recent interview with the Daily Mail, Farage said he was "53, separated and skint," saying there was "no money in politics."
The former city banker lives in a multi-million-pound townhouse in London's Chelsea district and has been paid a salary as an MEP since 1999. Farage's monthly, pre-tax salary, according to the European Parliament website, is €8,484 ($10,295) per month.
Farage's pension from the EU should be worth about €80,000 per year with a transitional allowance worth more than €100,000 when he steps down as an MEP in 2019 as the UK leaves the EU.
Website Votewatch Europe listed Farage 748th out of 751 MEPs for voting participation at the European Parliament.
Farage endorsed the far-right Alternative for Germany (AfD) party in last September's elections. He has been photographed with US President Donald Trump,
Earlier this week he raised the possibility of a second referendum on Brexit.
jm/sms (dpa, AFP)