The meeting, which took place in Paris, saw both European and US officials come to a consensus on a plan for Afghanistan as it grapples with post-election unrest.
"Our advocacy is for a fair process overseen by the Independent Electoral Commission, taking into account the decisions of the electoral complaints commission," Washington's special envoy, Richard Holbrooke, added, insisting claims of fraud would be addressed.
Holbrooke insisted Western powers would not seek to influence the choice of the Afghan people as he met with counterparts from 26 countries and organizations.
"We have no candidates and no preference as to a first-round victory or a run-off," Holbrooke told reporters after the meetings.
French Foreign Minister Bernard Kouchner, who chaired the meeting, said that though many instances of fraud were reported, it was a major achievement for the vote to have taken place at all.
"For Afghans to have voted in a climate of such serious danger is a success for the international community and for the Afghan people," Kouchner said.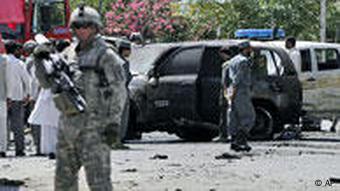 Wednesday's attack killed a high profile official and at least 24 others
Karzai leads election amid allegations of voter fraud
Afghanistan's incumbent president, Hamid Karzai, meanwhile, has extended his lead in the race for the Afghan presidency, with the latest results giving him more than 47 percent of the vote in the Aug. 20 election.
According to the Independent Election Commission, with just over 60 percent of votes counted, Karzai has won over 1.75 million of the near four million valid votes, with his nearest opponent, former Foreign Minister Abdullah Abdullah, gaining 1.2 million.
Karzai needs to secure 50 percent plus one vote in order to avoid a second-round run-off.
The Independent Election Commission said initially that preliminary results would be announced by Sept. 3 and the final result by Sept. 17 after the Election Complaints Commission (ECC) had finished investigating allegations of fraud.
The ECC, which has received more than 2,500 complaints of alleged irregularities, has also left open the possibility of pushing back the deadline to finalize investigations and certify the final result, with officials saying preliminary results might not be ready before Sept. 7.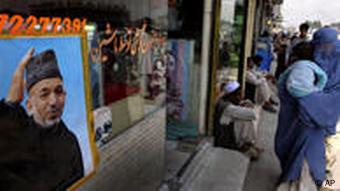 Complaints of fraud following last month's election have surged
Western powers to remain despite further threats to stability
Already, 2009 has been a record-breaking year for the number of foreign soldiers killed in Afghanistan and many are wondering what will become of the billions of dollars in international aid that have been poured into the country.
Wednesday witnessed a further sign of decreasing stability in Afghanistan, as a suicide bombing in the eastern province of Laghman killed at least 24 people, including the head of Afghanistan's intelligence service, Abdullah Laghmani.
According to the country's public health ministry, at least 50 people were injured in the attack.
But Wednesday's meeting in Paris made it clear that Western troops would stay in Afghanistan. Consensus was reached between US and European envoys that security forces would remain until stability was established.
"We cannot envisage the departure of troops unless the region is secure enough to benefit from these projects, and from the large amounts of money donated by the international community," Kouchner told reporters after the meeting.
"We want to bring our decisive support to the Afghan population by creating projects linked to agriculture, health, and education," he added.
glb/dpa/Reuters/AP
Editor: Chuck Penfold