Millions of Germans braved frosty conditions to welcome in 2011 on Friday night with spectacular fireworks celebrations and parties around the country. Naturally, the capital, Berlin, played host to the biggest party in the land.
The city's residents crammed into a 2-kilometer-long row of party tents from early Friday stretching from the iconic Brandenburg Gate to the Berlin Victory Column, known as the Siegessaeule.
Clad in winter wares and thick boots, partygoers danced to disco music in slushy snow amid the countless food and wine booths. In all, it was estimated around a million people descended on the site, with countless more in town for parties dotted around the city.
Once night time set in, huge flood lights were brought in to illuminate Strasse des 17. Juni - or June 16th Street - which runs off behind the Brandenburg Gate.
At the gate itself, giant multicolor spotlights threw bright pillars of light high into the sky, as a 40-meter-high Ferris wheel turned nearby, offering a prime view of the celebrations.
Revelers were even given a special treat, with a performance by David Hasselhoff, a cult icon in Germany, and Paul Potts, the English pop opera tenor who won the first TV series of "Britain's Got Talent."
There had been concerns of heightened security checks at party zones around Berlin following a score of terrorism-related arrests in Europe in recent weeks; however, no serious impediments were reported by those celebrating the new year.
Continent-wide party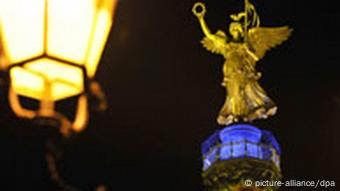 Berlin's Siegessauele was lit with huge flood lights
In other major cities around Europe, millions congregated at landmarks, with an estimated 235,000 Parisians gathering on the famous Champs Elysees and around the Eiffel Tower.
In the UK capital, meanwhile, more than 250,000 travelled to the London Eye big wheel to watch the annual fireworks on the banks of the River Thames. At Edinburgh's traditional Hogmanay street party, tens of thousands joined in to sing "Auld Lang Syne" as fireworks went off from the city's castle.
In Madrid, thousands assembled in the Puerta del Sol square to follow the Spanish tradition of eating 12 grapes, one each second on the countdown to midnight.
The small Baltic state of Estonia, meanwhile, welcomed the new year with fireworks to mark the country's formal adoption of the European single currency, becoming the 17th state to use the euro.
In Moscow, a blaze of fireworks erupted over the Kremlin as Russian police arrested more than 100 protestors during New Year's opposition rallies in central parts of the city and Saint Petersburg.
Author: Darren Mara (AFP, dpa)
Editor: Joanna Impey