Portugal and superstar Cristiano Ronaldo came into the match in Saint-Etienne as heavy favorites over Iceland, another major tournament debutant. But Iceland had looked good in qualifying, twice beating the Netherlands, and that had attracted considerable sympathy among neutrals.
And the northern Europeans almost started the match with a bang. Gylfi Sigurdsson had a clear look at goal but failed to get the ball past Rui Patricio.
After that it was all Portugal. Hannes Halldorsson was lucky to get a leg to a Nani header in minute 21, and Ronaldo failed to convert two good chances in the five minutes that followed.
After half an hour, the Portuguese struck pay dirt. Wolfsburg fullback Vieirinha started a move down the right flank, and André Gomes crossed to from the end line to Nani, who beat Halldorsson at the near post.
With the lead in hand and three-quarters of possession, Portugal eased off somewhat, and the score was 1-0 at the half.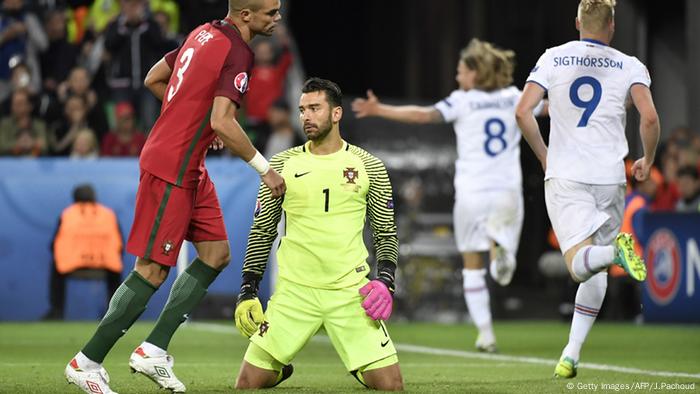 Portugal were punished for one moment of lapsed concentration
There were no signs that that would change in the second half, until minute 51, when the Portugese defense completely lost sight of Birkir Bjarnason. The Basel midfielder had no problem slamming home a Johann Gudmundsson cross.
Portugal resumed probing in an effort to restore their lead, but Iceland had plugged most of their defensive holes and had the odd half-chance themselves, including what must have been one of the longest throw-ins in history with a quarter of an hour to go.
In the final minutes Iceland had to repel wave upon wave of Portugese attacks, with their fanatic supporters cheering every clearance as if it were a winning goal. Five minutes from time, Ronaldo had a header from point-blank range, but Halldorsson, who plays for a relegation-threatened club in Norway, just managed to keep the ball out.
At the other end Alfred Finnbogason of Augsburg had a chance at an absolute sensation one minute later, but Patricio displayed sharp reflexes. Ronaldo had a pair of free kicks in the dying seconds, but it was no dice for the Real Madrid scoring machine and pin-up. Iceland celebrated a 1-1 draw that must have felt like Christmas and a handful of birthdays all in one.
Portugal, on the other hand, were understandably disappointed. "I hope this is a signal for us that we have to put our games away," Nani said after the match.
Iceland will meet Hungary on Saturday, while Portugal will attempt to take out their frustration on Austria.