Germany coach Joachim Löw was forced to make a number of crucial changes due to injuries and suspensions. Liverpool's Emre Can saw his first action of Euro 2016 in midfield, while Benedikt Höwedes paired with Jerome Boateng in central defense.
France came out with the unexpected approach of pressing hard, which seemed to knock the Germans back on their heels. The equipe tricolore almost took the lead in minute 6, when Paul Pogba shook off Thomas Müller in midfield and Antoine Griezmann danced through Germany's defense. Manuel Neuer was able to palm away his low shot, though.
Six minutes later, Can guided a cross to an open Müller, deployed as a center forward, but his fallow stretch continued, and he pushed the ball wide. Can himself unleashed a fierce blast at Hugo Lloris, but the French keeper pulled off a save that could make his personal highlight reel.
Germanyseized control in midfield, maintaining two-thirds of possession, and Lloris was called into action again when Bastian Schweinsteiger pounced on a Mesut Özil rebound in minute 26. Olivier Giroud could have broken the ice against the run of play, getting behind the German back line, but Höwedes chased him down before he could test Neuer.
There was one minute of injury time, but that was enough for Schweinsteiger to handle a loose ball in the box. Referee Nicola Rizzoli pointed to the spot. Griezmann slammed the ball past to give the host nation a lucky lead at half-time.
More injury misfortune
France took that momentum back out on to the pitch with them after the restart, as Giroud and Griezmann took aim within the first 90 seconds. But as in the first half, Germany asserted themselves and began hogging the ball.
Germany's cause suffered a huge blow, however, when Boatenglimped off on the hour mark. Shkodran Mustafi came on, meaning that Germany had at least 30 minutes to play with a second-choice central defense.
Boateng had been one of the main forces driving the ball forward for Germany, and his absence told as Löw's men struggled to create good chances. And in minute 72, France exploited a rare mistake by young right back Josuha Kimmich. Pogba lobbed in a cross that Neuer punched away from Giroud's noggin, but Griezmann was on hand to poke home.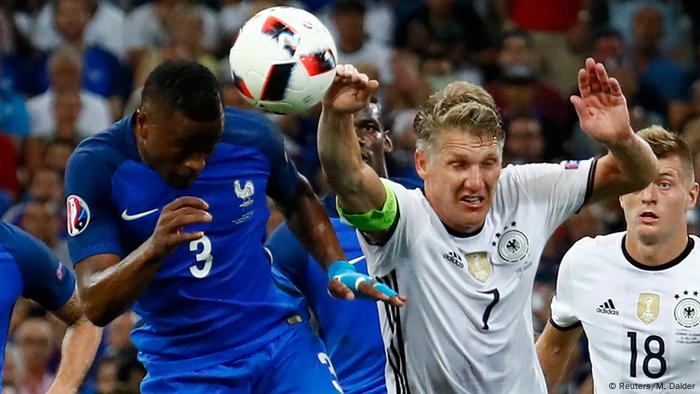 Schweinsteiger gave France an involuntary helping hand
Germany didn't give up even after going two goals down. Kimmich shook the aluminum in an effort to make up for his lapse at the back, and Julian Draxler lashed a free kick just wide a quarter of an hour from time.
Substitute Leroy Sane, Höwedes and Mustafi also all came close in the minutes that followed, but the proverbial centimeters between winning and losing weren't on Germany's side. Deep into injury time, Lloris pulled off yet another diving save of a Kimmich header - it was a scene that summed up the entire evening.
"As dumb as this may sound, we played our best game of the tournament," midfielder Toni Kroos said after the final whistle.
A somber Joachim Löw agreed with that assessment.
"We clearly dominated and the French were nervous," Bierhoff said. "But, of course, we failed to score. That was really unlucky."
France book a 2-0 win and get a measure of revenge for being chucked out of the 2014 World Cup by Germany. Les Bleus will be the favorites in Sunday's Euro 2016 final against Portugal.