The European Commission on Monday said it was concerned about media freedom in Hungary after the country's largest opposition newspaper stopped publication in what media rights groups have dubbed a further clampdown on critical voices.
Left-leaning Nepszabadsag newspaper abruptly shuttered its online and print editions over the weekend and would be sold, its owner Mediaworks said Saturday, citing commercial losses due to a fall in circulation.
Media rights groups and journalists have blamed the closure of the mostly critical paper on political pressure and the difficult media environment created by Prime Minister Viktor Orban's government.
"The commission is aware of and concerned about the suspension of the publication of the Hungarian newspaper Nepszabadsag," said Margaritis Schinas, spokesman for the European Commission.
"Questions have been raised on the reasons of the suspension," the EU executive spokesman added. "We are of course following the situation very closely."
The comments come a day after Dunja Mijatovic, media freedom representative for the Organization for Security and Cooperation in Europe, told AP that the newspaper's closure represented a "huge blow" to media diversity and freedom.
Since coming to power in 2010, Orban has tussled with the EU over migration and reforms in the media, judiciary and central bank that critics say are designed to consolidate power and stiffle dissent.
The media landscape is already dominated by outlets close to Orban's Fidesz party. Some media reports suggested that Nepszabadsag might soon be sold to an Orban ally, further consolidating his control over information.
Schinas said media freedom and the protection of journalists were "at the very base of a free and democratic society." However, the EU executive said there was only so much it could do about media freedom.
"The union's competencies in the field of media freedom and pluralism are limited," said another spokeswoman, Nathalie Vandystadt, adding that most regulations on media were determined by national laws and not the EU.
The closure of Nepszabadsag comes after the outlet recently published two stories implicating people close to Orban in corruption. The paper has published numerous stories critical of the government over the years.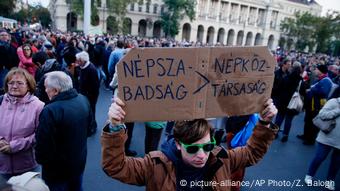 The announcement the paper would close triggered protests
"We believe the (closure) happened because of what we were doing," deputy editor in chief Marton Gergely told Reuters on Monday. "It is not necessarily due to the coverage of the past one or two weeks. The paper was shut down because they felt we could not be disciplined otherwise."
The Fidesz party called the paper's closure a "rational economic decision, not a political one," with the party vice chairman saying it was "high time" for it to stop publication.
cw/tj (AFP, Reuters)