International help has begun to arrive as Greece tries to cope with wildfires raging out of control on the Peloponnesian peninsula, with the death toll by latest count reaching 53, officials said.

A spokesman for the Greek fire department, Nikos Diamantis, said France had sent four firefighting planes and Italy two, while France and Cyprus had each sent 60 firefighters to the affected region.

On Monday, Greece was expecting four firefighting planes from Serbia and two from Spain, while two helicopters each were to arrive from Germany and the Netherlands. Israel, Romania, Norway and Slovenia were each sending one helicopter, while Switzerland and Iceland have also offered assistance.

Slight reprieve

The fire department has said efforts to contain the fires are being helped by a drop in the heavy winds that have swept the fires though thousands of hectares of forest and scrub since Friday.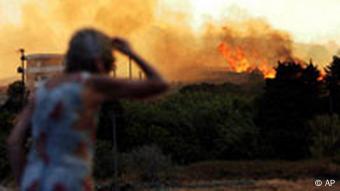 A woman looks on the fire approaching houses in Evia island
"We are optimistic that, if the weather and the reduction in the winds hold long enough, we may be able to be more effective," fire department spokesman Nikos Diamandis said, adding that it was impossible to say exactly how large an area had burnt or how many homes had been destroyed.

"Fires are burning in more than half the country," he said.

On Sunday, flames reached the village of Olympia, adjacent to the archeological site of ancient Olympia, birthplace of the Olympic games. Homes were burning, electricity had been cut and the fire had reached the Olympia museum in front of the shrine to Zeus, officials said.

Fires have also been reported raging near the port town of Kalamata and near Sparta on the southeastern part of the peninsula and near Corinth in the north. Another fire has been reported on Euboea, Greece's second-largest island.

Asking for help

Greece asked for European Union assistance on Friday, in particular for water-bombing aircraft, and the European Commission, through its Community Mechanism for Civil Protection, put out urgent calls to the 30 countries that participate in the program.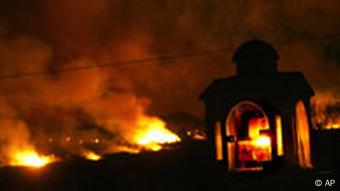 Villages are being devoured by flames
"It's a critical situation... much worse than ours," said Italy's public-safety chief Guido Bertolaso. "Even though we are still in the middle of an emergency in Italy, we cannot be deaf to the Greek government's appeal."

The Peloponnese faces "a truly catastrophic situation, with a death toll that is continuing to rise incredibly," he said as Italian firefighters continued to battle blazes, notably in Sicily and the Naples region.

The death toll from the Greek fires climbed on Saturday as search parties of soldiers and firefighters discovered more charred bodies in cars, homes and the countryside.

Call for unity

"I am saddened by the tragic loss of human lives that these forest fires have brought with them and hope that the European partners will live up to expectations and provide all the material support Greece needs in this moment of distress," said Commission President Jose Manuel Barroso.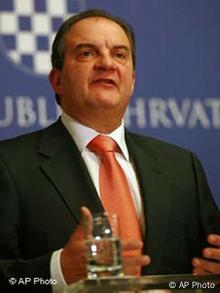 Greece's Prime Minister Kostas Karamanlis says arsonists are responsible for the disaster
"I am distressed that Europe's southern shores are once again experiencing climatic conditions that favor the spread of these fires. I am convinced that we need to strengthen our forest firefighting capacity to combat these fires together," added EU Environment and Civil Protection Commissioner Stavros Dimas.

It marks the fourth appeal by Greece to its EU partners since June for help in combating forest fires, which have spread due to several heat waves and months of drought.

Prime Minister Kostas Karamanlis has blamed arsonists for the latest inferno and police have so far arrested seven people in connection with the blazes.