In an interview with German newspaper Welt am Sonntag, European Union Industry Commissioner Günter Verheugen raised questions over the use of public money to subsidize industry.
"Nokia gives us cause to reconsider state policy on subsidies altogether," Verheugen told the paper. "I think there's no sense in the state paying subsidies in order to attract companies."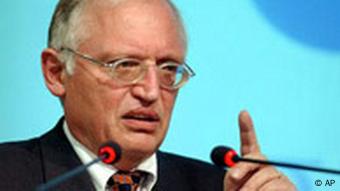 Verheugen wants to see action after Nokia's decision
Nokia, the world's biggest cell phone maker, said this week it would close a plant in the city of Bochum in Germany's western industrial Ruhr region because it was not competitive and move production to Romania instead. It plans to relocate to the towns of Cluj and Jucu in Romania on grounds of lower wage costs.
The company said the move will cost up to 2,300 layoffs at the Bochum plant. A number of part-time workers at the site have already been dismissed, according to a German newspaper report over the weekend.
"A subsidy locust"
Nokia's decision has provoked outrage in Germany, with state politicians threatening to seek the repayment of some the more than 80 million euros ($120 million) in state and federal subsidies the company had received over the 20 years of the plant's existence.
North Rhine-Westphalia Economics Minister Christa Thoben asked whether the company was receiving a subsidy from the European Union to set up in Romania. Germany is the largest contributor to EU funds.
And state premier Jürgen Rüttgers suggested the company was behaving like a "subsidy locust."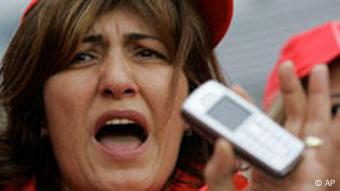 Nokia's decision has sparked outrage among its employees in Germany
The head of the IG Metall trade union, Berthold Huber, on Friday said steps needed to be taken to keep companies from abandoning Germany.
"In Germany it is much too easy for companies to close factories and leave people unemployed," he said. "These companies do enormous damage to society, and they need to be held responsible for it."
Politicians call for Nokia boycott
A few German politicians have said they would trade in their Nokia cell phones for another brand.
Kurt Beck, head of Germany's Social Democratic Party (SPD), the junior partner in the federal coaltion, called for an indirect boycott of Nokia cell phones.
"It's not my style to call for a goods boycott," Beck told German newspaper Bild am Sonntag. "But for me as I'm sure for many Germans, the name Nokia doesn't have a good ring to it anymore," he said, adding that we would not use the company's cell phone any more.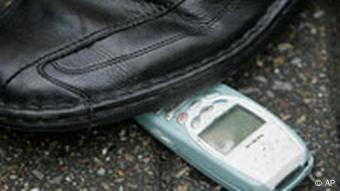 Feelings are running high in Germany after Nokia's decision to move production to Romania
"We can all together make it clear that we're not going to led ourselves be misled. Germany has 82 million consumers."
German Finance Minister Peer Steinbrück, who is from the SPD, attacked what he called Nokia's "caravan capitalism."
European Commission President Jose Manuel Barroso hinted the European Union might be prepared to help those affected.
"I understand the dismay of the people in Bochum," he told German magazine WirtschaftsWoche. "For the very reason we know how hard the process of change can be, we have social and globalization funds in cases where member states can't shoulder the burden of such changes."
Nokia on "wrong path"
Verheugen, a German who also serves as commission vice president under Jose Manuel Barroso, said Nokia's surprise announcement of the closure of the German plant pointed to "serious management failures."
"Nokia's behavior is the product of a new religion which idolizes shareholder value," he said. "That's the wrong path."
Nokia, which makes almost 40 per cent of the world's mobile phones, has insisted its decision was soundly based and that it was final.
Industry insiders in Germany said the factory-gate price of a no-frills phone had fallen to less than 10 euros, although others noted that wages made up just five per cent of the cost of a mobile phone made at the Bochum plant.
Nokia is to hold talks with German politicians and worker representatives on a social package to ease the closure.