At the so-called "Jumbo Council" in Brussels, the foreign ministers will be flanked by their colleagues from the defense and development ministries.
While plans for an EU common defence policy are still at the embryonic stage, the bloc has already deployed peacekeepers to Bosnia-Herzegovina and Chad and is training policemen in Afghanistan and the Western Balkans. Georgia on Friday joined the list of countries seeking help from Brussels in training its security forces.
Much of the discussions, however, are likely to focus on the EU-Lex law mission in Kosovo, which was originally meant to take over the administration of the newly-independent country from the United Nations on June 15.
EU officials now concede that legal and logistical difficulties mean that deadline is unrealistic.
While the mission's overall goal "has not changed," ministers are unlikely to commit themselves to a new date, sources from the Slovenian presidency of the EU said.
Tuesday's discussions will turn to development and aid issues amid calls from the European Commission for governments to commit more funds and demands for help from China and Myanmar.
Ministers are likely to reaffirm their "serious concern" about the violence and irregularities that have marred elections in Zimbabwe, where a run-off vote for the presidency is due to take place on June 27, nearly three months after the first round of voting took place.
The meeting's overall objective is to prepare the groundwork for the regular summer gathering of EU heads of government and state, due to take place June 19-20.
Poland calls for an eastern alliance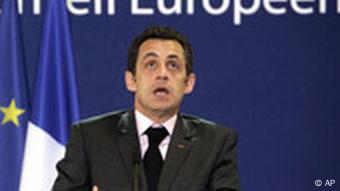 Poland wants an eastern version of Sarkozy's Club Med
At their last summit, EU leaders backed French calls to revamp their relations with their southern neighbors through the creation of a union for the Mediterranean. But Poland insisted at the time that the EU should also forge closer ties to the east.
Those Polish calls have now developed into a proposed Eastern Partnership. Backed by Sweden and blessed by heavyweights France and Germany, the Eastern Partnership would seek to negotiate visa-free travel and create free-trade zones with Ukraine, Moldova, Georgia, Armenia and Azerbaijan.
Poland and Sweden argue that their initiative will help steer Ukraine away from Moscow and closer to the West. Since it will not cost more money and will not create more bureaucracy, they are optimistic that it can enjoy the backing of other member states.
The European Commission has not been consulted and says it is eager to hear from Warsaw and Stockholm. At the same time, officials in Brussels note that just as with French President Nicolas Sarkozy's plan for a Mediterranean Union, the Eastern Partnership would only be given serious consideration if it can provide "added value" and avoid duplication in its structures.
Russia deal likely to be formally agreed upon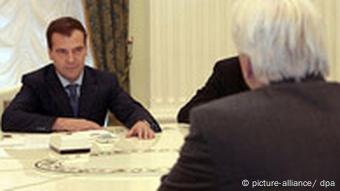 Russia and the EU have been facing off of late
During their meeting, the EU's foreign ministers are expected to give their formal backing to the launch of long-awaited talks on a strategic deal with Russia.
A breakthrough on the issue was obtained by EU ambassadors on Wednesday, after Lithuania agreed to withdraw its veto in protest at Russia's closure of the main oil pipeline into Lithuania, its treatment of Georgia and its refusal to hand over men suspected of committing atrocities in Lithuania in 1991.
While the launch of talks is due to be agreed by ministers without discussion, EU diplomats warn that that deal is not yet in the bag.
"We've seen a lot of surprises on this issue during the last years," one official said.
Relations between the EU and Russia on issues ranging from energy to education are currently governed by a Partnership and Cooperation Agreement (PCA), agreed in 1997 and intended to run for 10 years.