European Central Bank chief Mario Draghi is being pulled away from the bank's annual policy conference in Portugal to attend the EU leaders' summit Tuesday, as officials pledge to strengthen their resolve following last week's surprise British referendum result.
Draghi is expected to brief his colleagues on the immediate and long-term financial impact for the bloc of the UK's decision to leave the EU. The outcome has left world financial markets in turmoil and led the Bank of England to stand by to shore up Britain's finances if required.
As analysts warned that the summit could provide fresh concerns for market volatility, Germany, France and Italy said they wanted the talks to focus on finding answers to the challenges the EU now faces.
'United Europe'
A day before the summit, German Chancellor Angela Merkel, French President Francois Hollande and Italian Premier Matteo Renzi said in a joint statement that Europe was "united" and that there would be no informal negotiations with Britain on its future relationship with the EU until it triggers Article 50 of the Lisbon Treaty to begin the formal exit procedure.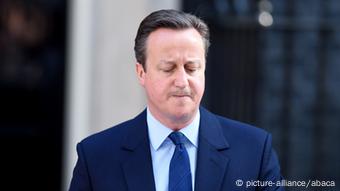 Cameron will stay for just the first day of the summit
Outgoing British Prime Minister David Cameron has repeatedly said that won't happen until his replacement assumes office, likely in September. Cameron will be in Brussels Tuesday to meet with the 27 other EU leaders for the final time before he stands down. On Wednesday, leaders will continue discussions without him.
The three leaders also called for EU countries to agree on concrete projects focusing on growth and security that can be implemented before the end of the year.
Real divisions remain
Tuesday's two-day summit comes amid fears that the bloc could be permanently fractured by the British public's decision, as an anti-EU sentiment rises across the bloc. Politicians in several EU states, including the Netherlands, France and Germany have now demanded their own referenda on membership.
Poland has called for the EU to rethink plans for closer political integration and France's Republicains party has called for the European Commission to be scrapped altogether.
In an interview with Liberation newspaper, the party's vice president Laurent Wauquiez warned that Brexit was not an exclusively British affair. "If you had the same vote in France, you would have the same result," he said, adding that Europe is dying and must face reforms.
The EU news site Euroactiv cited Czech Foreign Minister Lubomir Zaoralek as calling on Commission President Jean-Claude Juncker to resign, saying he should take responsibility for the UK referendum result.
Meanwhile, Lithuania has called on Britain to clarify whether its decision to leave the EU is "clear and final." Foreign Minister Linas Linkevicius said if the decision is final, talks should start without any artificial delays, adding that the current uncertainty was detrimental to millions of Europeans.
mm/jm (AP, AFP, Reuters)