Estonia, which currently holds the EU's rotating presidency, called the summit on Friday in the Estonian capital of Tallinn to highlight potential lags in Europe's digitalization effort.
"There is so much to gain from the digital way of life if we do it the right way," Estonian Prime Minister Juri Ratas said before the leaders' meeting.
Read more: EU internet policing proposals spark free speech concerns
"Everybody can benefit from the digital revolution: I mean the public sector, also the private sector, enterprises, but first of all... our people, our children," Ratas added.
Estonia has been progressive in the digital arena. In 2005, the small Baltic nation became the first country in the world to allow its citizens to vote online and also handle other administrative issues – such as car registration – online.
Taxing the digital giants
One major component is the taxation of digital giants. Several national authorities have had tax fights with digital giants such as Google and Airbnb.
In a speech on Tuesday, French President Emmanuel Macron called high-tech companies the "freeloaders of the modern world." Macron has proposed taxing digital multinationals on the revenue generated in an EU country instead of on profits booked in a low-tax EU headquarters.
Ireland, which has one of the lowest corporate tax rates in the world, houses the headquarters of Apple, Facebook and Google.
Read more: EU finance ministers propose new tax code for internet giants Google, Facebook
Nearly half the EU member states have already signed onto the idea, though they would like to see the tax applied worldwide, not just in Europe. But smaller EU states, such as Ireland, fear the tax proposal will cause these tech companies to relocate their headquarters.
Talks will also touch on cybersecurity and the free flow of data through Europe.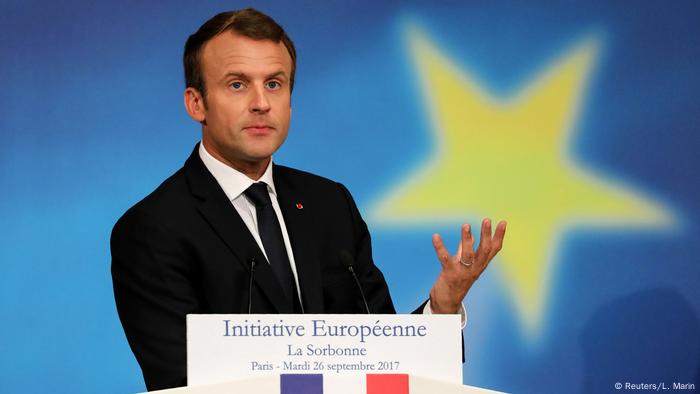 French president Emmanuel Macron discussed Europe's future in a speech on Tuesday
Stronger Franco-German relationship
Macron's speech on Tuesday also included proposals to strengthen the eurozone and move the EU forward in the post-Brexit era. German Chancellor Angela Merkel, fresh off her victory in the German election but still about to start the process of putting together a coalition government, praised Macron on Thursday before the two met in the Estonian capital.
"I see a good basis in the speech of the French president for intensive cooperation between Germany and France," she said.
Read more: Macron's eurozone plans put eastern EU members on the spot
Some of the proposals Macron outlined in his speech included creating a eurozone finance minister and a separate eurozone budget.
Speaking the following morning, the French president indicated that there was a consensus among European leaders to quickly push ahead with reforming the bloc.
"Last night's discussions showed there's a common realization of a need for a leap forward in Europe," Macron told reporters. "Today we're all convinced Europe must move ahead faster and stronger, for more sovereignty, more unity and more democracy."
Merkel highlighted that France and Germany were in agreement over proposals for the harmonization of corporate taxation and insolvency law as points.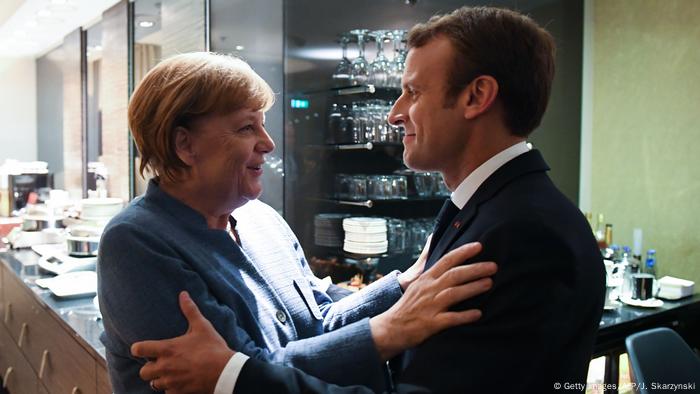 German Chancellor Angela Merkel (left) and French president Emmanuel Macron (right) meet before the European summit in Estonia
"As far as the proposals were concerned, there was a high level of agreement between German and France. We must still discuss the details, but I am of the firm conviction that Europe can't just stay still but must continue to develop," she said.
However, Germany's Free Democrats (FDP), with whom Merkel is seeking to form a governing coalition in the new Bundestag, have made their disdain for Macron's proposed common eurozone budget clear.
Read more: Emmanuel Macron's EU vision meets Angela Merkel's realities
In an interview with DW, FDP member and former finance minister Sabine Leutheusser-Schnarrenberger said she welcomed Macron's engagement in many European areas, albeit not on financial matters.
"A new eurozone budget would also mean more money, and what happens with this money is under the supervision of some kind of European finance minister," Leutheusser-Schnarrenberger told DW.
"I think we need strong member states in the European Union, perhaps with different kinds of autonomous regions," she added, echoing the FDP's calls for a so-called "multi-speed Europe" that would allow disciplined members to pursue common economic objectives and let others follow once it becomes financially viable for them to do so.
dv, dm/sms (AFP, dpa, Reuters)