"We agree that immediate measures are needed to assist the most vulnerable countries and populations affected by high food prices," the Lima Declaration said.
European Union Foreign Relations Commissioner Benita Ferrero-Waldner said in the Peruvian capital that soaring global food prices constitute "a regional challenge." The EU has approved a package worth 117.25 million euros ($183 million dollars) for food aid around the world, she said.
Signed by 60 countries at the end of the meeting, the declaration focused on the fight against poverty and climate change and expressed support for Haiti.
Focus on need in Haiti
Haiti is the poorest country in the Americas, with 70 percent of its nearly 9 million people living in poverty. Six people were killed and a further 268 injured last month in Haiti during riots over high food prices, and the prime minister was forced to resign over his handling of the crisis.
Inter-American Development Bank (IDB) President Luis Alberto Moreno, who also attended the summit, noted that his institution has granted loans for $27 million to Haiti to keep down food prices and has created a special fund to improve agricultural productivity, strengthen social networks and develop new technologies.
The Lima Declaration stressed "the efforts by the Haitian government and people to revitalize the state institutions and combat poverty, inequality and social injustices," while acknowledging the need for "urgent and effective continued action by the international community on behalf of rehabilitation and development in Haiti."
Call for distribution of wealth
Spanish Prime Minister Jose Luis Rodriguez Zapatero called on Latin America to implement "fairer" income distribution policies.
"Overcoming poverty, inequality and exclusion is crucial for the attainment of social cohesion, for sustainable development and for the effectiveness of our bi-regional partnership," the declaration stressed.
"There has to be an income distribution policy that is fairer than the current one in Latin America, and a social policy of cooperation for development that tackles basic structural problems," Zapatero said. "Social spending is also productive spending. Social investment generates wealth."
Economy linked to climate change
In his opening address, Peruvian President Alan Garcia addressed the other intended focus of the meeting, climate change, and mentioned an initiative to tax oil and natural gas to raise money to pay for reforestation.
The final declaration stressed that "environmental degradation and climate change seriously affect" economic growth, "hitting the poor hardest and seriously threatening the prospects" for the world's future.
Of the delegations present at the summit at the National Museum in Lima, 37 were lead by prime ministers or heads of state. Some key European leaders were conspicuously absent, including French President Nicolas Sarkozy and prime ministers Gordon Brown of Britain and Silvio Berlusconi of Italy.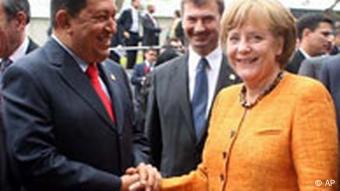 The war of words between Merkel and Chavez appears to have ended
Debate took place behind closed doors.
Merkel, Chavez make up
German Chancellor Angela Merkel and Venezuelan President Hugo Chavez, who had sparred verbally in the preceding week after Chavez made Nazi comparisons to the German leader, shook hands and even spoke briefly during the meeting.
Spain is set to host the next EU-LAC summit in 2010.