The international community was increasing its pressure on Moammar Gadhafi Monday as foreign ministers from key powers met in Geneva to coordinate their action against the regime on the sidelines of a session of the UN Human Rights Council.
In a flurry of activity, the EU announced that it had agreed to impose sanctions, including an arms embargo, a visa ban and an asset freeze, on the Libyan leadership. The decision came earlier than anticipated as part of a concerted effort to exert further pressure on Gadhafi and his inner circle.
"In line with the decision by the (UN) Security Council, the council of the EU banned the supply to Libya of arms, ammunition and related material ... At the same time the council enacted the UN measures regarding a visa ban," said Tamas Fellegi, development minister of Hungary which currently holds the EU's rotating presidency.
The visa ban and asset freeze each cover 26 people "responsible for the violent crackdown on the civilian population," including Gadhafi and his family, Fellegi added.
Speaking in Geneva, the EU's foreign policy chief, Catherine Ashton, said the EU would accompany those measures adopted unanimously by the UN Security Council with an embargo on other equipment that could be used against the anti-government protesters.
German Foreign Minister Guido Westerwelle told reporters after a meeting with US Secretary of State Hillary Clinton, that he was proposing a 60-day freeze on all payments to Libya in order to deprive Gadhafi of the means of "oppressing the people."
Appeal for action
At a meeting with her counterparts from other major powers, Clinton appealed to them to get tough on Libya and urged the world community to hold Gadhafi's regime to account for a list of atrocities, including reports that soldiers had been executed for refusing to fire on protesters. She told the Human Rights Council that Gadhafi must leave power "now, without further violence or delay."
Clinton added that the US would not rule out any measures to resolve the crisis. "We will continue to explore all possible options for action - as we have said, nothing is off the table as long as the Libyan government continues to threaten and kill Libyan citizens."
Earlier the UN's High Commissioner for Human Rights, Navi Pillay, said the international community had an obligation to help and support those seeking change in the Arab world.
"It is important that the changes now spurred by the uprisings in the Arab world must be allowed to take root, in order to avoid backsliding into dictatorship," she said.
Her appeal was echoed by Ashton, however she rejected accusations that the EU was trying to impose its set of values. "The right to free speech, freedom of assembly, justice and equality are not European rights, they are universal rights," she told delegates.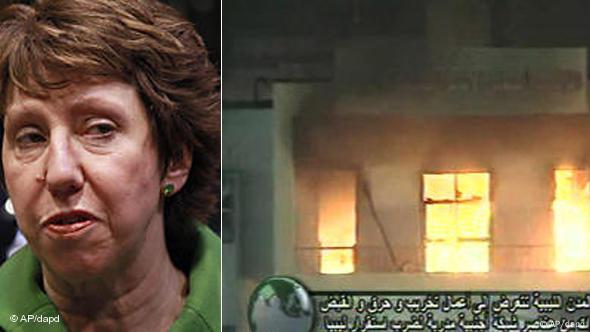 The EU has imposed a raft of sanctions on Libya
Preliminary probe
Following a referral by the UN Security Council, the International Criminal Court announced on Monday a preliminary probe into whether the violence in Libya constituted crimes against humanity.
"The office is currently assessing allegations of widespread or systematic attacks against the civilian population," said chief prosecutor Luis Moreno-Ocampo in The Hague.
Meanwhile, Gadhafi's grip on power continued to weaken as rebels reportedly took control of the third-largest city in the country, Misurata.
Regime opponents also appeared to be in control of the city of Zawiyah, 50 kilometers (30 miles) west of the capital, Tripoli.
Eyewitness reports said Gadhafi loyalists had been carrying out orders to shoot protesters on sight in Tripoli and several towns just to the south and west.
On Saturday, ex-justice minister, Mustafa Abdel-Jalil, who turned his back on Gadhafi's regime on Monday, announced an interim government would be formed for three months until elections can be held.
A separate group in Benghazi, however, announced on Sunday it was forming a Libyan National Council to be the "face" of the revolution.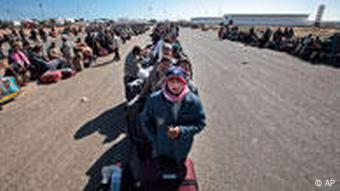 Tens of thousands have fled Libya for Tunisia
Mass evacuation
As the mass exodus of foreign nationals continued, China said it had evacuated around 30,000 of its citizens from Libya. Dozens of countries stepped up efforts to evacuate tens of thousands of citizens and close down embassies amid reported gunfire, looting and food shortages.
On Saturday, two German military transport planes evacuated 133 people, including Germans and other EU citizens, from a desert location in southern Libya.
A statement from the German Foreign Ministry said about 100 Germans remained in Libya.
According to the United Nations Refugee Agency, almost 100,000 people have fled the violence since last week. Most of the refugees had crossed into neighboring Tunisia and Egypt.
Author: Rob Mudge (AP, AFP, Reuters, dpa)
Editor: Andreas Illmer