The European Commission on Wednesday unveiled its proposals for a major reform of the European Union's Common Fisheries Policy (CFP), aimed at preserving fish stocks in the waters around the bloc in the long term.
"Our children will have fish," European Fisheries Commissioner Maria Damanaki told reporters at a press conference in Brussels to announce the proposals.
According to EU figures, currently 63 percent of the fish stocks in the Atlantic Ocean and 82 percent of the stocks in the Mediterranean Sea are overfished.
"Our current policy does not work anymore," Damanaki said. "We cannot afford business as usual. Maybe in the years before it was easier for the Commission, for governments and for the sector to close our eyes. But we cannot do it anymore."
Maximum sustainable yield
The plan is to stop the overfishing of depleted stocks and get to what is known as a "maximum sustainable yield" by 2015. This would be done in part by reducing fishing in over-exploited stocks for a few years in order to allow them to recover.
In the long term, though, the aim is to reduce the number of commercial fishing vessels operating in Europe's by introducing transferable quotas, which the Commission describes as "concessions" for individual fishermen.
Boats under 12 meters (11 yards) long could be made exempt.
The current annual trading of fishing quotas between EU member states, would be replaced with longer term regional plans, in which the quotas for specific fish stocks would be fixed for several years at a time, based on strict scientific criteria.
Also proposed is a ban on fishermen throwing unwanted fish overboard, a practice known in the industry as "discards."
Disappointment among environmental groups
Environmental organizations welcomed the intention of the proposals, but criticized them for not being strong enough.
"The Commission's proposal includes good ideas, but it leaves too much to chance," said Karoline Schlacht, a Hamburg-based fisheries expert with the World Wide Fund for Nature. She added that the proposals failed to set out specific deadlines and make clear who would be responsible for what.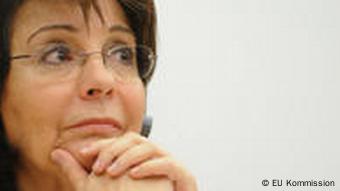 Damanaki is set for a tough fight to get her proposals implemented
"Making sure fish stocks recover before they're wiped out by overfishing makes a lot of sense. Anyone will tell you that more fish means more business for fishermen and a healthier sea," Greenpeace's EU fisheries policy adviser Saskia Richartz said in a statement. "But right now it's hard to see how the EU wants to get there."
Concern for smaller operators
The proposals were also met with criticism from some in the industry. The chairman of the Federation of German Cutter and Coastal Fishermen, Norbert Kahlfuss, said the fate of smaller operations was of particular concern.
"We are worried that the still vey large Spanish fishing industry could in future acquire quotas for the North and Baltic Sea," he said. "This would increase competition in our domestic waters."
German Agriculture Minister Ilse Aigner, though, welcomed the proposals, saying fishermen all over Europe would profit from them in the long term
However Damanaki is under no illusions about how difficult it could be to win the support of EU governments and parliamentarians for the proposal.
"My difficulties now begin, because we have to persuade the member state governments and the sector, because without their cooperation we have nothing," she said. "The negotiations will be very hard."
Author: Chuck Penfold (dapd, Reuters, KNA, AFP, dpa)
Editor: Michael Lawton